BY Godfrey Bivbere
THE Federal Government has given the Standard Organisation of Nigeria, SON, the mandate of reducing the level of substandard goods in the country to 15 percent by the first quarter of next year, Director General of SON, Joseph Odumodu, has said.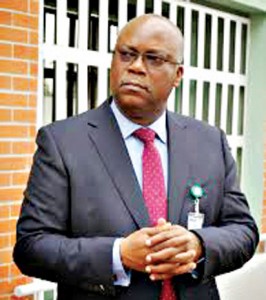 The SON boss also said that the organisation destroyed substandard goods worth N10 billion in the last four years.
Speaking during a courtesy visit to the National Association of Government Approved Freight Forwarders, NAGAFF, yesterday, Odumodu, said that the organisation is not only working hard to meet the target but is working at reducing sub-standard goods in the country to zero level as soon as possible.
The SON helmsman said that they are collaborating with all other sister agencies to ensure that government's mandate of reducing sub-standard goods and ensuring compliance to import/export procedure by stakeholders is enforced.
He pointed out that SON would continue to destroy seized sub-standard goods until there is a new directive to that effect. On impounding of seized consignments outside the port, the SON boss said that they will continue doing that because they must meet up with government's directive ensure reduction of sub-standard goods.
He said as long as businessman refuses to comply with the law of the land, SON will continue impound consignments outside the port based on intelligence, since they are no longer based at the port.
The Founder of NAGAFF, Boniface Aniebonam, urged freight forwarders and clearing agents to collaborate with SON to reduce sub-standard products in the country.
He said that seized containers should be checked and conveyed to SON base by the officials of the organisation instead of checking points.
"Enlightenment platforms and strategic processes can help in solving all the problems encountered during cargo importation as well as cargo clearance," Aniebonam said.
He stressed the need for continued campaign to remind agents on the actual time for moving out cargo from ports.
President of NAGAFF, Eugene Nweke, who was represented by the Deputy National President in charge of headquarters, Adeyemi Oluwole, said SON is a critical link within the international trade supply value chain and that NAGAFF appreciates its enormous role in pursuant of product standards and quality conformity of importers.
Nweke said that there was need for harmonisation and coordination to enable his members blend with the era of e-commerce trade facilitation. He commended the organisation on the e-Product Registration and e-Provision Clearance Certificate platform.
"We wish to advise SON management to go further by creating a forum where our national officers and other members will be given proper training and sensitisation programme".