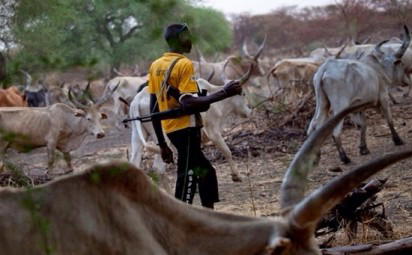 herdsmen
By Ochuko Akuopha
OLEH -WORRIED by their destructive tendencies across the state, some communities in Isoko North and Ndokwa East Local Government Areas Delta State, have barred Fulani herdsmen from bringing their herds to graze in their domains.  The communities include Ashaka, Ushie and Igbuku in Ndokwa East and Ofagbe, Isoko North Local Government Area.  They also resolved that Fulani herdsmen already living in their communities would be directed to withdraw their herds from their lands with immediate effect.
The resolution was sequel to last week's Fulani herdsmen attack on Ofagbe community which left one Mr. Japheth Inibu dead and one other, Mr. Thompson Ogege critically injured.
In a communiqué issued at a meeting with the Chairmen of Isoko North and Ndokwa East Local Government councils, Mr. Emmanuel Egbabor and Mrs. Nkechi Chukura respectively at Ashaka, the communities also cited the killing of one other person at Afor community in Ndokwa East as part of their grievances. 
The communiqué signed by the communities' representatives, Chief Gabriel Avwodeha,  Chief Edoro Edafeyoma and others, warned that anyone found to be collecting money from the herdsmen with a view to allocating lands for them for grazing purposes would be arrested and made to face legal actions.  Other grievance listed in the communiqué includes armed robbery, raping of the communities' women, destruction of their farmlands amongst others being orchestrated by the herdsmen.
Earlier in his remarks, Chairman of Isoko North Local Government council, Mr. Emmanuel Egbabor appealed to the Ofagbe community and the bereaved family to remain calm, assuring them that the state government was handling the situation.  He said the leadership of the Fulani herdsmen in the state had been invited by the state government and security agencies with a view to identifying and bringing the culprits to book.