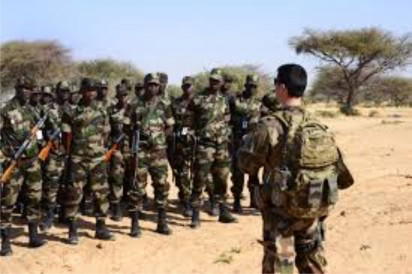 File Photo: Mercenary training soldiers
The United States Permanent Representative to the United Nations, Amb. Samantha Power, on Wednesday said that Nigeria urgently needed a viable military action to end activities of Boko Haram. The African Media Hub of the U.S. Department of State in a statement said that Power also called for a regional strategy to disrupt Boko Haram's hideouts, weapons' flow and means of recruitment.
"The repeated attacks by Boko Haram, which have killed 27 in the Lake Chad region, require viable military action and a wider regional strategy to disrupt their safe havens, weapons flow and recruitment. "It's also essential that the socio-economic conditions areas being exploited by Boko Haram be addressed and that their dire humanitarian conditions be addressed as well,'' it said.
The statement also said that it was imperative for government to ensure that the rule of law was returned to the affected parts of the North-East of Nigeria. It added that the U.S. envoy also stressed the importance of "decisively combating and defeating armed groups" in Nigeria.
The statement also said that the perpetrators of violence and terrorism in the country needed to be held accountable while the internally displaced persons (IDPs) kept in safe places. "It is really important for leaders to begin to look at the welfare of their societies. "They should ensure stability and inclusive governance to ensure that basic dignity and human rights are protected,'' it said.