By Favour Nnabugwu
A cross section of senior civil servants in the country say President Muhammadu Buhari's anti-corruption crusade may not yield any meaningful results unless the Federal Government addresses what they describe as the huge disparity in the salaries of civil servants.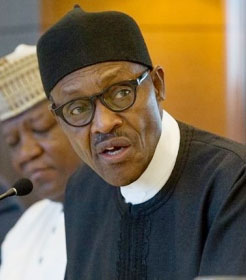 The civil servants were particular about the gap in the salaries of permanent secretaries and directors in the Federal Civil Service. They said the disparity does not encourage sincerity and transparency in the service, saying that it equally creates room for corruption.
Investigations by Saturday Vanguard show that a Federal Permanent Secretary earns over N1 monthly including allowances while a Director on Grade Level 17, a step before the Permanent Secretary, receives less than N300,000 a month. A Deputy Director earns less that N250,000 while an Assistant Director earns not more than N220,000, under the consolidated salary structure.
Some of the aggrieved directors who spoke on condition of anonymity, alleged that most of the new breed permanent secretaries were junior to them in the service while a number of others were brought from the states and promoted to higher offices. Government's action, they said, was capable of promoting apathy in the service.
According to one Director, "you think that if l have the chance to make money, l won't do it, with the meager salary l receive as a Director?" Another director put it this way: "This type of thing promotes corruption. Everybody will be exploring all avenues to make additional money."
"The same permanent secretaries who receive such huge salaries are also the chief accounting officers in the Ministries, Departments and Agencies (MDAs)," lamented yet another director. One assistant director said this of the permanent secretaries: "They control the votes of the ministries and that is an added advantage to them as they also enjoy some hidden status privileges.
"They determine or influence what projects are approved and if any project is not in their favour, they find it difficult to approve it."
Successive administrations have made efforts to evolve "appropriate and enduring" pay structure for Nigeria's public service sector with the setting up of commissions and committees at various times in the past.
Some of the reports recommended "substantial upward review of wages and salaries; realistic minimum wage and an adequate reward system that can sustain an average worker and which will not be eroded by inflation at any time."
This is apart from the recommended review of salaries and allowances every two years in addition to recommendations for the payment of generous housing allowances to enable civil servants rent adequate accommodation and reduce their incessant demand to live in government quarters.
The vision 2010 report equally recommended the provision of assistance in the education of workers' children, by paying education allowances on a maximum of four children per family until they graduate from secondary school.
A financial analyst told our correspondent that though the current wages may not be realistic considering the economic situation in the country, "it will not be wise to increase wages when the debt profile of the country is still high."
However, according to him, "we cannot be fighting corruption when corruption itself is staring us in the face everywhere including in the ministries. How can you dissuade a public servant from stealing or falling prey to the entreaties of corruption when his take home pay hurts him?"