By Emeka Mamah (Enugu), Vincent Ujumadu & Francis Igata (Awka)
ABOUT 42 Igbo organizations have planned to organize a five million-man march for what they describe as true federalism in the five south eastern states in December.
They say the protest march will hold simultaneously in Enugu, Anambra, Abia, Ebonyi and Imo states at a date before Christmas. The Founder of Igbo Youth Movement, IYM, Evangelist Elliot Uko, made this known after a marathon meeting with Igbo traders organizations and some Niger Delta groups.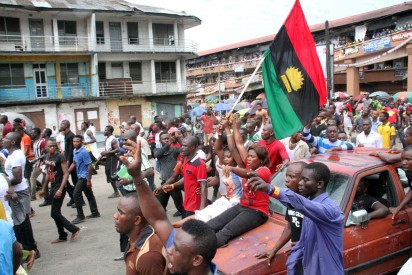 The Niger Delta groups which attended the meeting yesterday at the IYM secretariat in Enugu included, Union of Niger Delta and South-South Youth Congress, among others.
According to Uko, 13 different marches for the restructuring of Nigeria will hold in Afikpo, Abakaliki, Nsukka, Enugu, Aba, Umuahia, Ohafia, Okigwe, Owerri, Orlu, Onitsha, Nnewi and Awka.
He said that, "these peaceful marches will be led by the clergy and students groups in each of the cities and towns in the South East.
"Only the truth can save the situation and the truth is that Nigeria must be urgently restructured in order to give all sections a sense of belonging thereby enthroning true federalism without delay. Only an early return to true federalism will heal Nigeria.
"I do not think any Igbo leader will be stupid enough to commit political suicide by trying to deny the truth.
"Any attempt to impose scripted agenda on the people will only drive those leaders to irrelevance and self-destruction."
Meanwhile, a faction of the Movement for the Actualization of the Sovereign State of Biafra, MASSOB, yesterday, raised alarm on the nonchalant attitude and insensitivity of many Igbo people residing in northern and western parts of Nigeria who still believe that Nigeria State will be better for inhabitation of non indigenous people.
MASSOB in a statement said that if former President Goodluck Jonathan who was the most closest neighbour, in-law and friend of Ndigbo whose administration for six years could not right the wrongs the previous administrations meted to Ndigbo in the areas of deplorable conditions of Federal roads in Igboland, effect critical developmental infrastructure; Buhari's administration will never be fair to Ndigbo.
But the OHANEZE Ndigbo, the apex Igbo socio –cultural organization, dissociated itself from the activities of the Biafra agitators, who had been protesting in many cities in the South East and South –South, saying that Biafra died in 1970 with the surrender by General Philip Effiong, to the Nigerian troops.
Addressing reporters in Awka yesterday, the chairman, Forum of State Presidents of Ohaneze in the seven Igbo –speaking states, Dr. Chris Eluomunoh said that no right thinking person would support what he called the madness by some youths, who were being deceived to engage in something they cannot finish.
He said: "You will notice that Ohaneze has been very silent on the issue of Biafra insurgency, though the youth wing of Ohaneze has been speaking on it. Ohaneze, as the Igbo cultural group, cannot support Biafra and we dissociate ourselves from it totally.
"Igbo people have contributed so much in the development of Nigeria and we cannot allow some people to jeopardize the lives and efforts of millions of Igbo people residing in all parts of Nigeria.
"We believe that anybody who has any issue to settle with the federal government should use dialogue and that is why we participated in the last National Conference. No sane Igbo person would want to witness a repeat of the kind of thing that happened during the Nigeria Civil War.
"Ojukwu, who led the Biafra war, returned to Nigeria from exile and contested elections in Nigeria, which showed that he was fully integrated in Nigeria and was a full- fledged Nigerian before he died."
Eluemunor denied the speculation that politicians of Igbo extraction were supporting the Biafra agitation, adding that their support comes mainly from outside the country.
He however observed that part of the reason for the agitation was the dearth of infrastructure in Igbo land and pleaded with President Muhammadu Buhari to address the infrastructural decay in the area.
However, National Director of Information, MASSOB, Mr. Uchenna Madu advised Ndigbo residing outside Igboland to start returning back to their home land, re-establish their business and investment back to Igboland.
"We have decided and promise to provide adequate security of lives and properties in Igboland . MASSOB shall defend Igboland with our blood, valor and enthusiasm. It is our unflinching service to our father land.
MASSOB has vowed to root away kidnapping, arm robbery and other criminal tendencies in Igboland because there is no place in Nigeria like Igboland.
"MASSOB wishes to salute the courageous spirit and vision of these Igbo sons who proved their total love for development and industrialization of Igboland. Men who understand that charity and goodness of a real Igbo-man begin from home land. These men include chief Rommy Ezeonwuka (Ogilisi Igbo) proprietor of Rojenny Tourist Games village Oba, Chief Innocent Chukwuma, CEO of Innoson Vehicle Manufacturing Company, Nnewi, Chief Daniel Chukwudozie (Akudo of Okija) CEO of Dozzy group of companies Onitsha, Chief Dr. Alexander Chika Okafor (OON) Executive Chairman of Chicason Group of Companies Nnewi, Chief Cletus Madubugwu Ibeto, Chairman of Ibeto Groups of Companies Nnewi, Chief Chidume Oranu, GMD Krisoral Group of companies Onitsha and several others.
"Nigeria is a state where others are first class citizens but treat the Igbo as second class citizen, a state where others are born to rule but treat Igbos as perpetual outcasts, a state where state policies deliberately denies Igboland critical developmental infrastructure. Nigeria has vowed to continue to be a state where prejudice, tribalism, exclusion and hate are elevated while nation building is ignored, a state where it seem the only logic for unity is to share oil resources and not on the basis of consent, mutual respect, fraternity and shared brotherhood.
"Today in Nigeria, true Nationhood has remained still born, peace has remain elusive to Nigeria which still remain in perpetual strife and ever increasing crisis since her independence.
This undeniable realities are the reasons the Nigeria state is afraid of Biafra which represent the truth they cannot legitimately counter. Biafra speaks of the truth Nigeria know they are guilty of, so out of weakness, jittery and fear Nigeria resort to repression, persecution and detention of Biafra agitators"Biafra Spokesperson lamented.