As part of efforts to fulfill his promise when he inaugurated the Special End-of-month Environmental Sanitation in October, Governor Aminu Tambuwal of Sokoto State, on Sunday gave out N 2.25 million as reward to the three cleanest communities in Sokoto metropolis and its environs.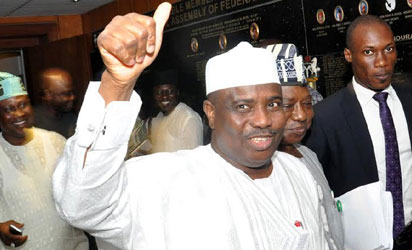 A statement by Tambuwal's spokesman, Imam Imam, said the N1 million top prize was claimed by Zone One, made up of Nigerian Army's Giwa Barracks, Old Airport road, Offa road and Dambuwa areas.
The second prize of N750,000 was claimed by Zone Three made up of Sultan Palace, Gidan Haki and Kofar Atiku, while the third prize of N500,000 was won by Zone 10 which comprises Mabera, Mana, Salame and Ali Akilu roads.
The statement said the winning districts were presented with their monetary prizes, trophies and certificates by Gov. Aminu Tambuwal in Sokoto.
Tambuwal commended the zones for the enthusiasm shown during the sanitation.
The statement also quoted him as stressing the need to keep environment clean and should not end with the collection of the money.
He said the government introduced the prize as a way of encouraging residents to double their efforts at keeping their communities clean.
It said, "government will continue to monitor all areas to ensure that the tempo is maintained."
Tambuwal also announced that henceforth, government will introduce cleanliness competition among public and private primary and secondary schools in the state.
He appealed to citizens to embrace the culture of cleanliness.
The statement further said that the presentation of the awards was witnessed by government officials, traditional rulers and youth groups, who vowed to redouble their efforts in raising awareness about the need to keep the environment clean at all times.