By Babajide Komolafe
THE Office of the Accountant General of the Federation (OAGF) and the Central Bank of Nigeria (CBN) will today meet with SystemSpecs, banks and other stakeholders on the tariff for the transactions fees to be charged under the Treasury Singles Account (TSA).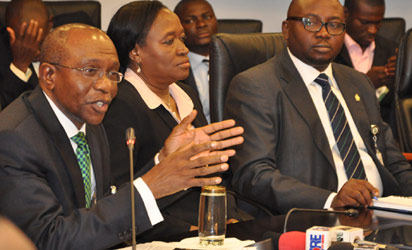 Vanguard investigations reveal that the meeting, which was at the instance of the OAGF and the CBN, will review the tariff for transactions under the TSA.
Presently, there is a one per cent transaction fee for every transaction through the TSA which is conducted on Remita electronic payment platform owned by SystemSpecs.
A source close to the TSA project confirmed this development to Vanguard. Speaking on condition of anonymity, he said, "The meeting will involve all the companies in the TSA value chain, and they will discuss and agree on what the new tariff should be.
The meeting should have been held long before now, but recent developments have made it imperative".
Last week, following the decision of the Senate to probe allegation that Remita had been paid N25 billion, being the 1 per cent commission it charged for the transfer of N2.5 trillion of federal government funds to the TSA, and the directive of CBN to SystemSpecs to refund the transaction fees charged so far under the TSA, SystemSpecs had written to the President, seeking intervention of the Presidency in the resolution of the transaction fees issues. The letter in part reads, "While we await clarification from OAGF/CBN on the way forward, we have since suspended all TSA e-Collection fees on the platform. This means that none of the TSA collection parties/channels are earning any fees for providing services to Government.
"This position is however not sustainable as the collection partner banks are threatening to suspend FGN TSA collections. This would clearly be playing into the hands of those who do not wish this initiative to succeed. We understand the strategic importance of the TSA project to this Administration and the country at large.
"Your Excellency, we would appreciate your kind and urgent intervention to ensure a speedy resolution of this matter before the banks stop collections.
"In line with the subsisting contract and your assured commitment to the rule of law, we humbly request sir, that the fees earned by ourselves and the banks to date be returned to us and our partner banks. In view of the enlarged scope and the need to review the process, we humbly request sir, that you direct a meeting of relevant stakeholders be conveyed to agree a sustainable pricing model going forward. We solicit the continued political support of the TSA initiative by your Administration for this initiative that offers far more to our nation beyond the immediate take-off issues".