By Is'haq Modibbo Kawu|
ON the eve of the 2011 presidential election, I received a text message from Raymond Dokpesi, urging me to vote for Goodluck Jonathan the following day. He adduced a host of reasons for endorsement of candidate Jonathan and why I should accept his choice.
I sent him a very rude reply for what I felt was an impudent message! Jonathan never appealed to me as capable of being our president; and the bitter intra-party struggle within the PDP, about what to do, in the wake of Umaru Ya'Adua's death, had polarised the party and deepened the schisms associated with Nigeria's political life.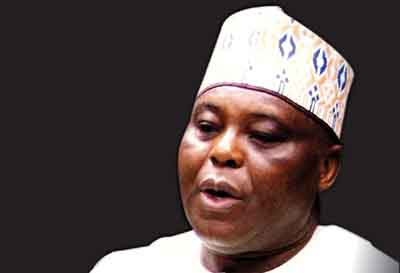 Besides, I had unambiguously supported Muhammadu Buhari since 2003! My reply soured our relationship for a while and I didn't see Dokpesi until April 2012, when we met at the Wynn Hotel in Las Vegas, USA. We had been attending the annual conference of the American National Association of Broadcasters, NAB.
I have given this narration, against the background of Dokpesi's frank admission last week, that Jonathan's emergence in 2011, which had short-changed the North, was one of the reasons for Jonathan's and the PDP's defeat in the 2015 elections, amongst many other reasons. Dokpesi's apology to Nigerians was incredible, even when Olisa Metuh countermanded him the following day, stating that it was Dokpesi's personal view and not the PDP's; or the more gung-ho and 'Area Boy' intervention by Doyin Okupe! In truth, Raymond Dokpesi's admittance was rather like s**t hitting the PDP's ceiling fan: likely to soil too many party grandees.
Irresponsible ruling party
The PDP would surely have won the grand prize, as perhaps Africa's most irresponsible ruling party. Here is a party that used to describe itself as Africa's largest political party, but which soon after it came to life, on the basis of the grand vision of idealistic founding fathers, was to immediately founder, against the backdrop of a combination of often, nation-destroying circumstances.
For 16 years, until its defeat at the last elections, the PDP did everything that made it impossible to succeed in the nation-building process, at a time that Nigeria needed it most. The party became Africa's most ruthless vote-rigging contraption and so brazen would it become that it turned on its head the basic logic of a democratic society. So the more scandalous its excesses, the more votes it was able to garner in badly rigged elections.
It was as if the Nigerian people had entered into a covenant to regularly deepen their own sorrow through votes that they seemed resigned to giving to a most irresponsible political party. Sometimes it seemed reasonable to imagine that we had become a country of lobotomised cretins quite unable to determine what was good for us!
In 16 years, the PDP offered the best illustrations of the worst excesses of prebendalism, as party grandees and 'tin gods' like Chiefs Tony Anenih and Olabode George, for example, re-defined the ethos of democratic politics, as angling for the lowest common denominator in leadership recruitment.
What mattered wasn't the overall health of the country,but the survival of a system which allowed these grand old men to continue ruling the roost. So individuals without any meaningful political and electoral value, made good, for as long as they could work their way through the manipulative,but patently undemocratic ethos which had been carefully enthroned as the ruling mantra of the PDP. And because they could "win" elections no matter which way the Nigerian people voted, it became clear that success lied not in working for the Nigerian people, but in how well one could work through the labyrinthine entrails of PDP politicking.
That explained why until an election had been conducted and sufficiently rigged, one couldn't even be sure of who exactly was PDP's candidate in the election. Candidates were often swapped several times before the election was held. In the long run, the Nigerian people had to learn by experience and came to the conclusion that this behemoth could not be nudged in the right direction.
It was far too lost in its ways to find the means back to the vision of idealist founding fathers like the late Chief Sunday Awoniyi. In the hands of Olusegun Obasanjo, the PDP became a monstrosity and it must have been painful for Chief Awoniyi to see the party he laboured to midwife become eventually, in his words, "a basket of scorpions, stinging themselves to death"! Wole Soyinka described the same party as  "a nest of killers"!
This is the party that Dokpesi and others are desperately trying to reform. They certainly have their work cut out into the future. The PDP has so messed up the hope that it initially inspired to be of any redeemable functionality into the nearest future of Nigerian political life.
Its best bet is to hope that the ruling party, the APC, would make such a mess of the mandate it has been given by the Nigerian people. Unfortunately, the tendencies within the APC and their struggle for hegemonic dominance of the party can open up the aperture for the PDP to reclaim the space of public perception. If such a calamity should befall Nigeria, then Dokpesi's s**t wont have hit the PDP's ceiling fan in vain!
Dangote's concrete roads formula for Nigeria
A FORTNIGHT ago, I spent four days in Lagos. I had been invited by AG Dangote, the construction arm of the Dangote Group, to see the road it is constructing between Ibese and Itori in Ogun State. The 24-kilometre road project is being undertaken as a Corporate Social Responsibility intervention by AG Dangote.
But it also has another purpose, which was to exhibit the relevance of roads construction in Nigeria through the use of concrete, as against the bitumen that has been central to roads construction in Nigeria over the decades. Aliko Dangote is the largest producer of cement in Nigeria and I think in Africa today; so he has a major reason to showcase the efficacy of concrete in the roads construction process in Nigeria and, in the long run, on the African continent.
Two reasons have triggered my interest. The first was that every road leading to Ilorin, my hometown today, is practically spoilt. The Kaduna-Ilorin road is a nightmare; the Bida-Ilorin road is completely unusable; we cannot travel anymore from Abuja going through Kabba to Ilorin and, therefore, we are forced to travel up to Okene and then make a detour into Ekiti State before entering Kwara, either through Osi or Ayedun/EkanMeje.
Even the Ibadan-Ilorin Expressway has stalled between Ogbomosho and Oyo, so it is also a major problem travelling from that direction too. All these roads are bitumen based, and over the years, they have rapidly deteriorated, becoming very difficult for road users. Yet, Nigeria expends billions of naira attempting to fix these roads. I love to drive on Nigerian roads to behold the beauty of our country and to also connect with the mass of people who traverse distances by road.
Today, it makes no sense to use roads because they endanger lives and easily destroy our vehicles. A few days before the last Sallah, we sent a driver with a bus to pick my children from their boarding school. A drive that would have taken not more than five hours ended as almost 11 hours of nightmare for the children!
Thinking out of the box
It became clear to me, that we needed to think out of the box, because bitumen-based roads don't have the lifespan that would make driving reasonably comfortable for the Nigerian people. Besides, in an era of dwindling resources, and a nevertheless desperate need to fix roads, we surely must think out of the box. Isn't there another way of fixing Nigerian roads in a cost-effective manner that will also last much longer than bitumen-based roads? Then a few weeks ago, I read an interview that Aliko Dangote gave on the effort that he was making with the introduction of concrete-based roads construction in Nigeria.
This was the second reason that stirred my interest; so I placed a call to Dangote. I asked him what the comparative advantages were and he obliged me with information. Similarly, he invited me to see the road that he was constructing in Ogun State. That was the reason that I travelled to Lagos and Ogun states two weeks ago.
The Ibese to Itori road is a 24-kilometre road that AG Dangote is constructing as a Corporate Social Responsibility intervention. It is also a showcase of the use of concrete as an alternative to bitumen.
It was very interesting that on the Monday that I visited, two weeks ago, an Abia State delegation led by their Commissioner for Works that had also come to see the way that concrete was being applied. We met the AG Dangote team on the 16th-kilometre, and the level of equipment use and the rapid manner that concrete was being brought to site from the Dangote factory at Ibese showed that it was a very good alternative to bitumen, which is imported, with consequences for very scarce foreign exchange today in Nigeria.
Over 95% of what is needed for concrete-based roads is sourced locally and that has tremendous implication for job creation and retention within the Nigerian economy. I found out that cost per kilometre for concrete-based roads in Nigeria is $675,000 – $850, 000, while bitumen-based cost per kilometre is $800, 000 – $1, 050, 000.
That will bring a 23% saving on cost. I went round the AG Dangote plant at Ibese, including the laboratory, where the concrete used is scientifically tested, to ensure very high standard of work on the road. I similarly discovered that a concrete-based road has a life span of between 30-40 years, while it allows for very low maintenance cost.
As part of effort to showcase the efficacy of concrete-based roads construction, AG Dangote is waiting for approval to construct the Obajana to Kabba road in Kogi state, which is projected to cost far less than bitumen-based construction, and from our point of view, will mean that we would have some respite in attempting to get to and from Ilorin.
I left AG Dangote's Ibese to Itori road, convinced that concrete-based roads construction might just be the thinking out of the box that we need to fix major roads around Nigeria. If government can fix the roads leading to Ilorin from all the directions that I enumerated earlier, with concrete, it would ease our pains considerably and that would also have become another of the multi-faceted contributions of the Dangote Group to Nigeria's progress!