BY DAUD OLATUNJI, Abeokuta
Leadership of Small and Mediun Scale Computer Entrepreneurs and Artisans Association of Nigeria(SCEAAN), Ogun State chapter , yesterday, protested the alleged exclusion from online registration for Joint Matriculation Examination Board (JAMB).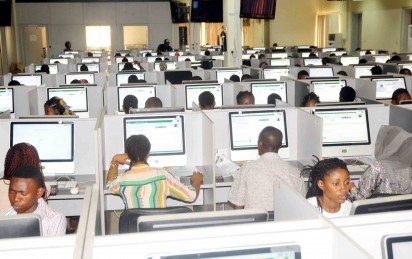 President of the group, Deji Babajide, who was flanked by other members of the executive, including Murphy Azeez, Rev. Wole Falusi, and Mrs Temitayo Adrienne, disclosed that over 20,000 business centres, computer cafe have been excluded from the online registration.
Babajide while addressing newsmen in Abeokuta, noted that centralising online registration of the unified examinations would deprive a number of candidates of the opportunity to get registered for the examinations.
He said Candidates residing in riverine communities and hard to reach locations are currently facing difficulty in accessing the few CBT centres located far away from their base.
"JAMB collected a refundable of N10,000 caution fee from each cafe in 2011 so as to be able to register students on its website. Another N10,000 caution fee was collected in 2013 amounting to over a hundred million naira. Up till date, the amount has not been refunded."
The group noted that last year, JAMB replaced over 5600 names of small computer businesses/cafes on the websites with that of some selected CBT centres where students usually seat for computer-based examinations.
Consequently, the group is calling on the Registrar of JAMB, Prof. Dibu Ojerinde to rescind the ongoing policy and decentralise online registration of the examinations as a matter of national interest.
The SCEAAN officials charge JAMB to pay CBT centres more having increased the cost of its forms by N500.