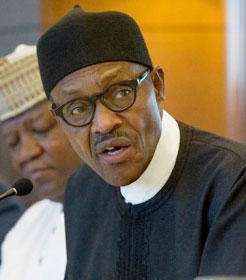 President Muhammadu Buhari
Tehran – President Muhammadu Buhari on Sunday arrived in Tehran, Iran, to participate in the Gas Exporting Countries Forum (GECF) summit on Monday.
The President was received at the Mehrabad International Airport by the Iranian Deputy President, Mr Shariat Madri, around 7.15 p.m. local time (4.44 p.m. Nigerian time).
Others at the airport to welcome the President included officials of the Nigerian Embassy in Iran, led by the charge de affaire, Dr Ali Magashi, the Minister of Foreign Affairs, Mr Geoffrey Onyeama, and the Minister of Power, Works and Housing, Babatunde Fashola.
The Minister of State for Petroleum Resources, Mr Ibe Kachikwu and the National Security Adviser, Retired Maj.-Gen. Babagana Monguno were also at the airport to welcome the President.
Buhari, who is expected to meet with his Iranian counterpart Hassan Rouhani during his two-day visit to Tehran, will hold bilateral talks with other participating heads of state and government on the sidelines of the GECF summit.
He will also meet with Nigerians living in Iran.
A correspondent reports that already, some heads of state and government from GECF member countries arrived Tehran on Sunday morning for the gas summit.
Turkmen President Gurbanguly Berdimuhamedow is also in Tehran for bilateral talks and to take part in the third summit of the Gas Exporting Countries Forum as a "special guest.''
The 2015 meeting of the member countries of GECF in Tehran is expected to review the current market outlook on gas and discuss strategies for boosting gas production.
The summit will also provide a framework for exchange of experience, views, information and data, as well as coordination in gas-related developments among member countries.
GECF consists of 17 main and observer members with its permanent secretariat in Doha, Qatar.
Russia, Iran, Qatar, Algeria, Bolivia, Egypt, Equatorial Guinea, Libya, Nigeria, Trinidad and Tobago, Venezuela, and the United Arab Emirates, are main members of the GECF, while Netherlands, Iraq, Oman, Peru and Norway enjoy observer status of the body.
GECF members account for 42 per cent of global gas output, 70 per cent of global gas reserves, 40 per cent of pipe gas transmission, and 65 per cent of global trade of Liquefied Natural Gas (LNG).
The 2011 and 2013 GECF gas summits were held in Qatar and Moscow respectively.