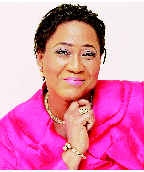 By Dayo Adesulu
Mrs. Nkechi Ali-Balogun who was educated in Frank Jefkins School of Public Relations, London and University of Lagos, UNILAG, is the Principal Consultant at NECCI Consulting. In this interview with Vanguard, she disclosed some practical  things that Public Relations students must know in order to succeed in the profession. Excerpts…
TELL us about the Roundtable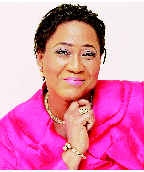 The 15th NECCI Public Relations Roundtable training slated for November 26, 2015 at Four Points by Sheraton in Lagos was created  to equip practitioners with new approaches, new thinking and strategies in public relations.
The experts slated to speak at the 15th NECCI Public Relations Roundtable include Bolaji Okusaga, CEO, Quadrant Company, Yemi Badejo Okusanya, CEO of CMC, David Okeme, and Nkiru Olumide-Ojo, Head, Brand Communications, Stanbic IBTC. Others are Joachim Atunwa, a former Marketing Director and Communication Strategist at Globacom, and Dr. Austin Tam- George, Executive Director of the Istitute of Communication and Corporate Studies, Lagos.
What informed forming NECCI PR Roundtable?
One of the reasons why we started the round table is that we discovered that we didn't have a platform where public relations experts come together and discuss trending initiatives in PR. Secondly, we didn't have a platform where PR practitioners can actually come and sample their products. Thus, the round table gives us the platform to sample our products, ideas and initiatives. With their ideas here and there, we package whatever ideas we have and go back to organizations as better products.
Damage control
We also discovered that a lot of PR practitioners don't have time to go for courses. We thought of a platform where PR practitioners can, even if it is for three hours, be trained and exposed to global thinking, global strategies, new approaches, because a PR officer that is not well equipped is like a blind man leading somebody whose eyes are open but that cannot see. It's going to be crisis upon crisis.
There is also the issue of organisations employing the services of a PR practitioner when they have crisis for the person to do damage control, meanwhile if they had an in-house PR person, he or she would have ensured that the crises did not happen in the first place.
So, the PR round table is an opportunity to build capacity, persons who have ideas can bring in their ideas, especially globally. There are some global PR institutions. Let them bring in their ideas and we will localize and apply it to what we have here. That is the whole idea behind NECCI PR round table.
How can students partake in the Roundtable?
Recently, we included students but that comes with a huge cost of catering for them. This year, to augment we decided to get sponsors so that we will be able to take students as they are actually the ones that gain more form an outing like this. We intend to include at least 15 students so that they will learn from those in the field.
Nigerian universities lack practicals, as such when they partake in the roundtable they meet people, industry icons; in Marketing, Brand Communication and Public Relations. Basically they will network and see how they can help build capacity, especially as regards career.
We have also discovered that what we lack in public relations is talent. Some of our graduates are not employable. So, we have decided to bring in experts to make them employable. If we are to have a future in public relations, we must begin to build talents.
How long has NECCI PR roundtable been in existence
We started since 2009, but this is the 15th roundtable, as it is done quarterly. However, for more impact, we decided to hold it once a year so that we will be able to attract sponsors, more people and engage some international speakers. As opposed to quarterly which turned out to  be too frequent.
How many persons have been trained so far?
At every roundtable we have at least 20 people in attendance, this is because we believe that the smaller we are, the more interactive the sessions will be.
How can PR affect individuals, companies and the society at large positively ?  PR deals with the public. PR is about looking for a more conducive place to meet with the people. It is about analysing situations, analysing the environment, whether political, social, economic situations, and being able to make predictions based on the analyses.
The analysis is used to advise either the management, government, as to the right way to go. When countries, governments, etc, start having issues, especially issues that deal with people, community, environment, whether individuals or corporate, the PR prcatitioner comes in.
Most times, if you look at their public relations, there is a gap. Put simply, I know that you are a journalist, when you look at country like Nigeria, you find out that the presidency, for instance surrounds themselves with media, because all they think is that PR is equal to media.
Media is a tool in the hands of public relations officer. Media is interested in reporting news. PR goes beyond that. We may not report news, but go into the heart of the people and what we do is long term.
We want to find out what makes people tick, what are their needs, what are their wants, what is it that drives them, that brings out the best in them so that they can relate with them and co-exist with them in a mutually beneficial way.
What does PR help you do? Risk analyses. You analyse the situation, you come up with the solution.
The issue is that as long as people do not understand the functions of public relations, we will continue to have  problems it is only when we are in crises that we look for a PR person to solve the problems. And most times, the damage is so bad that there is little or nothing that a PR person can do.
In other words, it is good to engage a PR person from the onset.
Yes. Right from the onset. Right from the concept stage. We must carry him or her along.
For instance, if The President wants to visit Ijebu Ode, the PR person must find out who the people of Ijebu Ode are, what are their likes. What the president must do to make them happy? What must not do? What he must say and  not say? How he would dressor not dress.
Recently, I heard that the president didnt shake the female ministers. In PR, that is not allowed, no matter the religion, this is governance. These are his people. What he has just done is to let the women know that they are inferior. But that is not his intention. That is what PR does. A PR officer must never be scared. He must be bold to do his work. He must be able to say, Mr. President, no, you can't do that.
What is the role of PR in management of political crisis?
PR is about facts. It is about the truth, but most importantly, it is about your ability to manage facts and truths. The ability to manage information is the first thing a PR person must know as long as the PR person is privy with the truth.
Sadly most the PR officers we have around are not trained public relations personnel. There are people who have connections, some of them are journalists, these are not PR people, they don't know anything about research, they don't know anything about community relations, they don't know anything about government relations, they do not know anything about opinion leaders, they don't know anything about persuasion. These are registers that a PR person must know in managing the political class.
The practitioner also needs to ask, "who am I working for? What is the goal in order to arrive at a win-win situation? One must be able able to balance whatever truth, information and facts available to come up with a solution that helps both the client and the people. Let's say you work for Mr. President. You must be able to advise him in a such a way that he knows that you are working for him and at the same time he must be able to advise the people in a such a way that they respect Mr. President.
It is a very complex position but an expert in PR knows that the first thing he needs to do is to provide a positive solution that leads to peace. I use the word peace, either in an organization or governance, you must be able to provide an enabling environment. Ours is not to worsen the situation, ours is to bring a balance between the public and the organization.
More on the company
I am a trained PR practitioner and I have worked as a PR manager for years. I didn't go into PR protocol and events or even PR profiling because I realized that there was a gap in PR training. Most of the trainings I had as a practising PR person, I did abroad and even if we had any, it was done shabbily. That is why I am into the training aspect of PR.
We are basically trying to bridge the gap. We have been training since 1995 and in all modesty, before you mention two to three PR training institutions in Nigeria, you will definitely mention us.