'The limits of pro-Biafra protests'
By Emma Nnadozie,  Crime Editor
In terms of crime and criminality in Nigeria, Anambra State is, no doubt, rated high.  This is not just because it is in the heart  of the South-East but also shares borders with many other states, a situation that makes it easy for criminals to penetrate.  However, efforts of  government and security agencies seem to have put paid to the excesses of the criminals as shown in the successes recorded by the state Police Command.  The state police boss, Hosea Hassan Karma, bares his mind to how he has been coping with the situation. Excerpts:
Security situation in the state
The security architecture in Anambra is one of the best in our federation. Anambra State used to be a spot for armed robbery, kidnapping, murder and violent crimes.   But, to the credit of my predecessor, who is currently my AIG, Usman Gwary, in charge of Zone 9 at our Zonal headquarters in Umuahia,  he started laying the foundation by putting the crime situation under control.  I came in and started building on that foundation and, so far, it has been wonderful.
The magic wand
The magic wand is that Governor Willie Obiano sees security as the reason he is in  office.   He believes that if he cannot guarantee security of lives and property in Anambra,  then he does not have any business being governor.   To achieve that goal, he makes sure all the security agencies in the state work  together as a team. In Anambra,  it is immaterial whether you are in the military, Customs, Immigration officer, or in the Civil Defence, NDLEA, police, DSS.  All of us see ourselves first and foremost as security agencies sent to the state to ensure that lives are protected, and that has given us a focus. I recommend that approach to every state government in this federation because if we work with common purpose, one aim, the job is half won and  made easy. That is the magic wand.
Challenges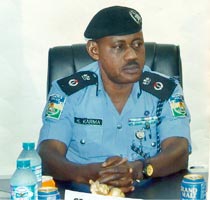 Of course, as a human being, you do not expect everything to be rosy at all times. First, logistics is always a challenge.   The state government has done so much especially in the area of provision of vehicles.  And the police high command, under the able leadership of the Inspector- General of Police, Solomon Arase, has done so much in the area of providing vehicles as well  and extending maintenance allowance  to our men, especially those on highways. These days,  you see patrol cars on highways in place of policemen who used to be at roads  block and this has gone a long way to ease some of the challenges we have.
Checkmating the activities of MASSOB and pro-Biafra elements
If you say Anambra is MASSOB's main operational area, I will disagree with you in the sense that Anambra is not the only South-East state.  Their over-all leader is not from Anambra.  So, the headquarters is not  Anambra.   However, Anambra  has its  own challenges.   It has it's own elements of the movement.  We keep on telling the MASSOB people and other such movements that our Constitution provides for freedom of speech, freedom of association, freedom of movement.  But, it has limits because the truth about it is that where your freedom stops is where another person's freedom starts.   For example, I cannot tell you now I have freedom of movement and start stepping on top of your head and say I am exercising my freedom.  Of course, you will push me down because I am infringing on your own freedom.   So, we let them know that as long as they have the right to express themselves, to associate, they should do it within the confines of the law.
Personal involvement in combating crime
Naturally, if you must be a leader and you want the people to actually do what you preach or what you expect them to do,  you must live by example.   Anambra is not the first state in which I have  been involved in operations.   If you follow my deployment, I have practically been in operations since after my training. Of course, I was in my state where I later became the ADC to the governor and you know that is an operations job.   From there, I went back to training institutions as directing staff for four years.   From there, I went to Rivers  State where I was a Divisional Police Officer in charge of  Bokiri, Obasanjo, Trans- Amadi and Mile One Police Stations. I ended up as the commander of internal security in entire Rivers when I took charge of the Swift Operations Squad. It is an internal outfit created by the state government to checkmate crime and criminality.  That time,  crime was on the increase in Rivers which coincided with the militancy that came up.  If you were a DPO there, you must be physically involved in patrol and, when I left there, I still got deeply involved in operations jobs including as a   commissioner in charge of mobile police force and you have to move  round the whole country.
Checkmating manufacturers and runners                                                                                                                                                                                  When it comes to the issue of local gun manufacturers, especially if it is prohibited arms, you must obtain license.  For the local gun runners, if we get you with any of these arms,  we allow the full weight of the law to come down on you and that has really streamlined the manufacturing and those people that bear them for illegal activities because, of course, you can not have a locally made gun or pistol and say you are taking it for protection.   There is no law that stated that.
Kidnapping
It is stamped out in Anambra.  Even the local ones where families have trouble and they want to set each other up, we try to apply the law and the state government, through the state House of Assembly, put a law in place that if you kidnap somebody and keep in your house, that house will come down.  Even if you are not a kidnapper and you allow your house to be used to keep a victim who had been kidnapped or use the proceeds to build a house and it is investigated and traced, the house will come down too.   That has discouraged kidnapping because people mostly kidnap for money and if you kidnap and make N10,000 and, maybe,  you use it to build a house of N100,000 and, the house comes down,  it means you have wasted your effort.
Curbing the excesses of policemen
My policemen have been undergoing training and re-training. Secondly, on weekly basis, we talk to them and anyone of them caught doing what  the law does not permit, we allow the full weight of the law to come down on him.   We have had cause to dismiss bad ones.  We have had cause to demote some in rank and it will be a continuous exercise.
Cultism
We have our own share of cultism in Anambra.   Maybe,  because violent crimes have been stamped out, cultism is now well pronounced in the state.  That is the reason we have to set up an outfit to address cult related issues and a seasoned operations office put in charge and any where it happens, we follow it up immediately.
Plans for Xmas
Just like last year,  before Christmas, we had, in addition to the 'Operation Hold" that was in place in the state, a joint task force which we code-named, "Operation Shaba".   This year,  we are going to have another joint operation. We want to call on the people of Anambra outside the state, outside the country,  that they should feel free to come home and reunite with their families.   The security apparatus is well informed on any kind of crime and we call on our brothers, those who have not renounced criminal activities, to, please, know that  crime does not pay.   If any one of them is still contemplating in engaging in crime, they should be informed that we are watching.  We are prepared to deal decisively with any situation. Anambra is too hot for criminals now.