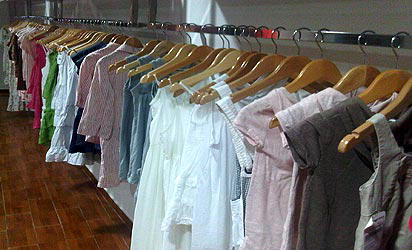 By Rotimi Ojomoyela
Patronage of sellers of used clothings is not restricted to any class, its usage cuts across social strata. At a point in time  in the life of an average Nigerian, used clothing from abroad,  seemed to be the most handy and available, because of its affordability.
Patronage of the  booming business
The use of this category of dresses is so wide spread that an international news network, Aljazeera said that 80 percent of Nigerians dress in illicit, used garments. College girls, graduates, undergraduates, hawkers, the working class, job seekers and all categories of people; have all at one time or the other patronised bend-down-select attire.
Ado-Ekiti, the Ekiti State capital has a higher concentration of youths, because it is home to several higher institutions: two universities, two polytechnics. A school of nursing and the state college of education, which is just about twenty minutes drive away from Ado-Ekiti, it is natural that those dealing in second hand clothing or used clothes would have a boom.
Good quality wears
Before now, traders of this illicit clothing used to select those of good quality at Katangowa market in Lagos for Ado-Ekiti market, but with the boom they are experiencing in the business, they now bring the clothes in bundles to the market from various sources including markets in neighbouring Benin Republic.
Sources of used clothing
Used clothing, a contraband item in Nigeria is usually moved into Nigeria illegally from neighbouring countries. This clothing is imported from European countries and rumour has it that smart importers fetch the clothes from either  refuse dump-sites, or from charity homes where they were donated to by good samaritans who had used them.
Indeed, the sale of used clothes is a thriving business anywhere in Nigeria and Lagos, Nigeria's commercial hub is described as largest market of the product in the country and Katangowa market the largest used clothing market on the continent, it was at a time described as the "Wall Street of second-hand clothes".
Strange enough, some of the buyers of the illicit clothes, who spoke to Vanguard at Oja-Bisi, the main depot for used clothes in Ado-Ekiti, said the truth about the clothes is that most of them were carefully used as they still look very  good to wear by the time they are brought here, and so our people still find them very useful.
Respondents: why we prefer imported used wears
Jumoke Adeboye, lives in Idolofin area of Ado-Ekiti, she is a school certificate holder,  she told Vanguard that she buys the clothes and that in fact what she was wearing at the time of interview was a typical example.
"Yes, I do buy bend-down-select. And believe me they are good. But I buy it now because that is what I can afford. I do not have a good job or good higher certificate to get enough money that could make me buy from boutiques, " she said.
Cynthia Adu is a student of one of the higher institutions in Ado-Ekiti. She told Vanguard that second hand clothing for her was a natural choice.
"My mum had introduced me to  the fairly used clothes. Apart from the fact that it is economical buying them, they last longer. If I were to buy three 'tops' with N6,000 in a boutique, half of same amount would get me about 10 of such shirts as fairly used ones with better quality. Do you know that in most cases, the used clothes you see being displayed by the road side are often the same being sold in some of our so called boutiques. If you don't believe me, find time to get a 'grade A' fairly used, wash it well, starch and iron it, and you would be surprised it is just of the same quality with the expensive ones being sold in the boutiques to unsuspecting people,'' she said.
Displaying a nice looking, well starched and ironed gold -coloured shirt, young Solomon Igwe, also a student in a higher institution in Ado-Ekiti, said:  "This shirt, isn't it good on me? I bought it by the road side. If I don't tell anyone no one knows that it was used. They only ask me how much I bought it and from which boutique?. That's simply the secret of some of us who aren't rich but are smart in getting good things," Igwe said.
Findings also revealed that many relatively poor people prefer second hand western clothing, with the belief that it lasts longer than all these home-made ones.
 Lucrative business
According to Adeboye, a resident of Ado-Ekiti, "You know they are imported from abroad where the best materials were used to make them. So, buying a grade A used material is  better than going to boutique to expend your hard-earned money on clothes sewn with inferior materials"
Uche Amaka, a 28-year old housewife, who sells second-hand clothes in Oja Bisi market, described it as lucrative business. In her words; "It is lucrative, and quite easy to begin. The good thing also is that there is always a ready market for it. With about N10,000 or less, I can purchase a bundle of Okrika in Lagos and adding transport fare to it, that would be about N14,000. I can make well over N30.000 out of that single bundle when I bring it here to sell in units. So, the business is okay. The only thing is that it's quite stressful because it involves travelling."
While Peter Saints, another Okrika seller said; " Many big people come to buy the clothes from us as you could find any kind of clothes in them; suits, skirts, pretty tops for ladies, jeans trousers and nice trousers, as well as well sew shirts.
"There are also very good and durable shoes. The list is endless and for many customers, they are simply irresistible!, "he said.