By Ikenna Asomba
AS encomiums continue to pour in for the Golden Eaglets, a football enthusiast, Toyin Sodipo has spoken of the need for proper guidance of the players.
While congratulating the players for their sterling performance at the just concluded FIFA U-17 World Cup in Chile, Sodipo said proper counseling would nip in the bud the problem of slave contracts to European clubs..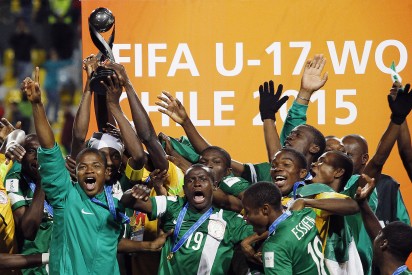 Stating that he was not surprised with the display of the team, the Tee & Tife boss said "these boys are now the toast of major clubs in Europe and we must offer advice that will protect their future.
"Football agents and scouts are desperate to sign them but we must advise them so as to not jeopardize their future. We would like to see these boys forming the bulk of the Super Eagles at the 2022 World Cup.
In the past, we saw how some of our youngsters signed slave contracts due to lack of proper counseling."
He also urged the Federal Government to honour the players.
"President Muhammadu Buhari is very lucky to have won two World Cup titles during his regime. The first time we won it at China '85, he was the Head of State, and 30 years later, we won it again while he was a Civilian President. I think the boys deserve to be honoured."