By Princewill Ekwujuru
As the battle for the share of voice, share of mind and ultimately share of pocket intensifies, especially in the banking sector, the need for strong branding is greater than ever before. Outstanding and consistent customer service, creative products and authoritative endorsements all add up to the brand arsenal.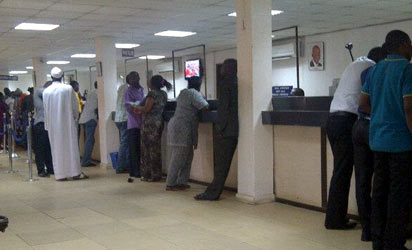 The Nigerian banks are daily rolling out new campaigns, new concepts, promotions, all in the battle of the mind. In the battle of the brands Guaranty Trust Bank , GTbank,  had taken almost full ownership of the brand space on service promise and delivery. But GTB is raising its profile in a fresh direction now.
Rather than blowing its horns, it allowed other respectable institutions to blow the horns for her, in line with the famous brand quote by Amazon founder Jeff Bezos "Your brand is what people say about you when you're not in the room."
In quick succession, GTbank scooped five international awards by globally acclaimed institutions.  Guaranty Trust Bank was named the 2015 Bank of the Year and Most Innovative Ai SRI 30 Company by leading international investment and communications group, Africa Investor (Ai), at the prestigious Ai Institutional Investment and Capital Market Awards in New York.
Launched in 2007, the Ai Institutional Investment and Capital Market Awards is the only pan-African Awards designed to recognize Africa's best performing stock exchanges, listed companies, investment banks, research teams, regulators, socially responsible companies and sovereign wealth and pension fund investors. The investment and business leadership awards aim to reward exceptional business practices, economic achievements and investments across Africa,
According to Hubert Danso, CEO of Africa investor: "We are delighted to say that this year's winners are our most exciting yet, and are  testament to the ever-improving investment climate in Africa. GTBank's ability to continuously deliver notable success and significant progress across its businesses, despite increasing regulatory headwinds and an extremely challenging business environment has enabled it emerge double award winners in the 2015 Ai Institutional Investment and Capital Market Awards.
Not long after, Guaranty Trust Bank was named the Best Banking Group of 2015, Nigeria, by the World Finance Magazine, a publication reputable for providing comprehensive coverage and analysis of the financial industry, international business and the global economy. According to Michael McCaw, the Group Managing Director of World Finance: "The Nigerian banking industry has faced substantial headwinds in recent months.
Despite this, there has been significant work carried out by financial institutions in an attempt to find solutions for growing revenue and providing customers with excellent services tailored to meet their diverse needs. One Bank that has recorded remarkable accomplishments in all of these areas, is Guaranty Trust Bank ."
Following in succession, was the recognition of Gtbank for good corporate governance during the 2015 African Business Awards held   in New York. Launched in 2008 by African Business magazine, the African Business Awards has become the deûnitive business awards in Africa, recognizing leadership and excellence on the continent. The objective of the Awards is to highlight a successful and vibrant Africa that is open to local, regional and global business ventures.
According to Omar Ben Yedder, Publisher & Managing Director of IC Publications: "We are proud of all our winners, their work and accomplishments in various sectors show what can be achieved on the African continent with hard work and single minded determination' To cap it all, Gtbank  Managing Director, Segun Agbaje was crowned as Africa's Banker of the Year during the 2015 World Finance  Awards.
According to Michael McCaw, the Group Managing Director of World Finance: "GTBank's CEO, Segun  Agbaje, has  displayed  astute  foresight  in positioning the GTBank  brand  at the forefront of  the  African  banking  industry  by  providing  alternative approaches to retail growth, which  have brought about a boom in customers and profits,  and fuelled  expansions  into newer, high-growth  markets."
Segun Agbaje, Managing Director/CEO of GTBank responded: "We are humbled and proud of these global recognitions. We remain resolute in our commitment to providing our customers with superior banking experience by prioritizing innovation, integrity and excellence in service delivery.  As a Bank, we will continue to differentiate ourselves by aggressively pursuing innovative solutions and maintaining high standards in creating sustainable value for stakeholders."
GTBank has consistently played a leading role in Africa's banking industry. The GTBank brand is regarded by industry watchers as one of the best run financial institutions across its subsidiary countries and serves as a role model within the industry. 'Juice ball' & effective communication in brand building
Since brands get recognition through the experiences they are associated with, it is important to ensure that their communications are developed to draw attention to positive emotions. A communication campaign that has done this well in the past few weeks and which has generated talkability is the Chivita 100% 'Juice ball' commercial. Currently running on multiple communication platforms, the commercial has endeared more consumers to the brand from market indications.
According to Emeka  Nwosu, a marketing communications consultant with Wings Concepts notes that "the brand presence and growth of Chivita 100% juice from the house of CHI Limited has of recent been exceptional with the deployment of the 'Juiceball' commercial that is now  on every broadcast station, social media space, billboards as well as sustained media articles exposure in print publications"
For Olamide Ajayi, a sports content marketing executive, said, "the Chivita 100%  campaign has in recent times attracted the attention of communication experts for its adherence to the principles of great advertising. It is necessary to separate good advertising from great advertising because when certain basic fundamentals are adhered to, great commercials are capable of arousing the emotion in a way that deepens the interest of the target audience and brings about a lasting relationship and that is what Chi limited has done with this commercial"
According to Chi Limited's Head of Marketing, Mr. Probal Bhattacharya, "the success of the Juice ball commercial in raising awareness on the amazing quality and benefits of Chivita 100% is not surprising because the whole campaign has been designed and executed based on clear consumer insight with the objective of reaching  consumers at the relevant touch points"
"In fact, we are excited about the feedback we are receiving on the juice ball campaign as it confirms our research findings on effective ways to engage the consumer. Just as consumers are excited about the commercial, we are confident that Chivita 100% Fruit Juice will continue to meet their expectations and sustain the excitement in more ways than one" Mr. Bhattacharya stated
Produced from the finest collection of local and imported fruits and squeezed into affordable packs, Chivita 100% fruit juice comes with no added sugar, colour or preservatives and is available in six variants; Real Orange, Real Apple, Real Pineapple, Red Grape, Orange Pineapple & Orange Mango and in 1 litre, 315ml and 250ml pack sizes.