The leaders of Gbaramatu kingdom, Warri South West Local Government Area, Delta State, have warned that Gbaramatu kingdom is not part of Biafra.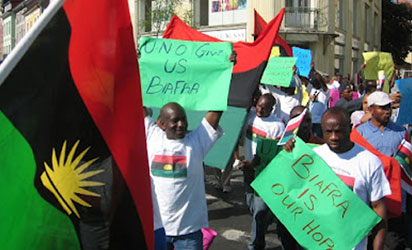 Elder Dickson Agagha, who spoke on behalf of the leaders at a meeting in Warri, insisted that  Gbaramatu kingdom will never be part of Biafra, saying that any son or daughter of the kingdom making such a move to include Gbaramatu in Biafra will fail.
They also appealed to all youths in the kingdom to remain law-abiding, expressing hope that the government of President Muhammadu Buhari will address the neglect and marginalisation of Gbaramatu kingdom by immediate past administration of Goodluck Jonathan.
"The five years of Jonathan as President actually brought pains and hardship to Gbaramatu kingdom, while only his associates from the kingdom were empowered to the detriment of the kingdom".
They said further, " we are reiterating our call on President  Buhari to prevail on the appropriate authorities to embark on the rebuilding of Okerenkoko community and other communities destroyed maliciously by JTF some years ago".2015