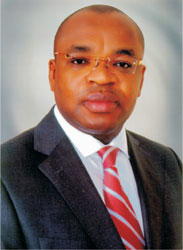 Udom Emmanuel
Akwa United football club have been given an executive order by the governor of Akwa Ibom State, Emmanuel Udom, to do everything possible, to bring the Trophy home, when they face Lobi Stars on Sunday in the Final of the event at the Teslim Balogun Stadium in Lagos.
The Governor did not mince words, as he expressly ordered the players of the club to go to Lagos and beat Lobi Stars in the finals of the 2015 tournament, when he hosted the players to a breakfast meeting on Wednesday at the Government house, Uyo.
"I am coming for the game against Lobi Stars in Lagos. I want you to go and bring back the trophy. The state is waiting patiently for the trophy, Udom said.
"I know you have a good team that can make all of us in Akwa Ibom smile. This is the first time, a club from the state will qualify for the final of the Federation Cup and I want you to make it count this time"
Meanwhile, Lobi United Captain, Terna Ikpeen has assured that the team will beat Akwa Ibom team when they clash on Sunday.
Ikpeen insists that they have a better team and will emerge Champions of the competition this year.