For residents of the bustling city and its neighborhoods, the best way to share their location is to try give directions using landmarks. 
Ghana, like many African countries, is in the middle of an urbanization boom. Accra is expanding so fast that the town and country planning office has been unable to keep up, neither has the formal addressing system. Houses are simply being built without names or numbers and therein lies the legend of finding your way in Accra,the capital.
For residents of the bustling city and its neighborhoods, the best way to share their location is to try give directions using landmarks. 
"Go past a roasted plantain seller,  turn right at the  bridge, Next to the kiosk with the Coca-Cola sign. Eighth house on the left with the red roof".
It can really be interesting,even funny if you are new to the city.
It  however ceases to be funny the moment you need the services of the police, fire or ambulance service during an emergency. Will you be in the position to tell the police to look for a plantain seller who may not be there at 2 am when you are being robbed? It is frustrating for the ambulance service to take 15 minutes to drive 20 KM to a location but spend about 40 minutes just trying to locate the specific house in need of emergency care.
That was the worry of an intense 29 year old who had just returned home from university in the United Kingdom and he decided to do something about it.
Sesinam Dagadu is what some might call an accidental entrepreneur – meaning the business created the entrepreneur, not the other way around. A short discussion with him will tell you he is not your typical hustling tech entrepreneur, armed with a sales pitch, relentlessly striving to sell an idea. 
No, Dagadu simply "found an interesting problem to solve" – the lack of a formal street address system in Ghana – and then solved it.
The idea was born from his own frustration. Having been raised in Ghana till the age of 10, he completed his schooling in the UK, before pursuing his systems engineering studies at university. But unsure of what he was doing with his life, he put his education on hold to return to his home country, where he took up a position at Ecobank in Accra. It was here that he discovered how Ghana's lack of formal addresses could hamper business.
"I was with the marketing team and saw how they had to go out and try find people. It was ridiculous the amount of time we spent looking for people," he recalled. "For the entire day we could maybe only go and see two or three people, which just seemed very inefficient to me."
The solution was an app called SnooCode. 
It was a breakthrough navigation tool that reduced all the landmarks to a simple number but Sesinam felt he could do more with his app than just help get people to their destinations. 
Out of Sesinam's  search came an adaptation of Snoocode nicknamed Code Red.
" The Haitian Earthquake and the London Central Train Station Bombing taught us some valuable lessons about the emergency service provision, where in a country with almost 100 percent efficient internet and mobile connectivity, no  communication was achieved because every network was defunct.
That taught us that a true emergency communication tool will be one that must function even when internet and mobile connectivity is done. "
"The code replaces the street name, the house number, the area and everything – which makes it even more accessible to people who have lower levels of education. Code Red is an adaptation of our original navigations code, SnooCode for the ambulance service. So it helps the Ambulance Service find the specific location of the distress call in record time. "
Today the Code Red is the app of choice for the Ghana Ambulance Service,helping them to overcome navigational mountains that was impeding the public's access to emergency health care.
Anyone who wants to let others know where they are, can just send their location's code – as if it was any formal address. The app also provides navigation options to these locations. And in terms of Code Red, they send it to the ambulance service in time of need, and the ambulance service gets on its way as soon as they get the code.
 A careful analysis of the Code Red technology shows that it doesn't only replace a traditional addressing system, but may even work better than the European style addressing system because of the handicap of illiteracy.  Anyone who cannot read cannot use a traditional addressing system. But Code Red doesn't have that barrier.
"Because one thing that a lot of people don't think about is if you have a European style addressing system, somebody has to be able to read the area and street name. But with SnooCode all you need to know are your alphabets and your numbers, which is just about a first grade education."
Snoocode and Code Red are the foundations upon which Sesinam has founded his tech company, TinyDavid  that is still based at his home in Dansoman,a suburb of Accra.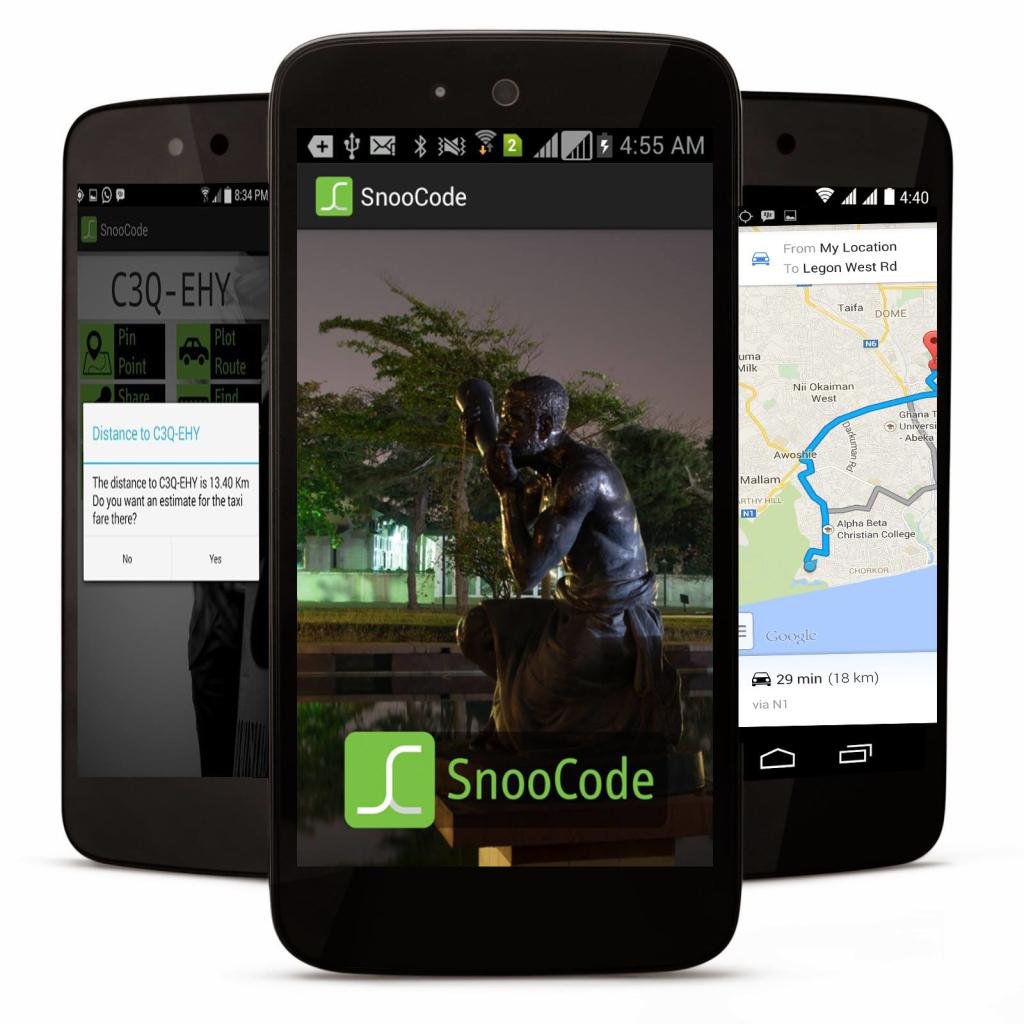 SnooCode App
While there is potential for TinyDavid to charge companies a fee for using the service commercially, Dagadu wants the service to remain free for personal use. And his focus is on expanding to other African countries too.
"We are looking hard at expanding across Africa. The vision is, by the end of next year, someone should be able to navigate from one front door in South Africa to another in Accra, on one system and without the internet."