Abuja – President Muhammadu Buhari on Saturday spoke with the Golden Eaglets and their officials, urging them to strive for victory in the final of the Under-17 FIFA World Cup holding in Chile on Sunday.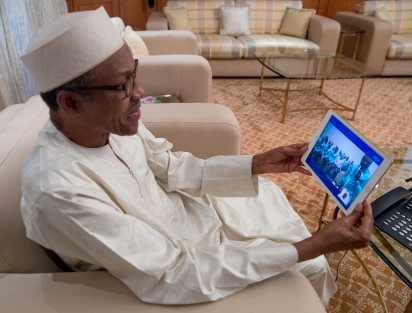 A statement issued in Abuja by the president's Special Adviser on Media and Publicity, Mr Femi Adesina, said President Buhari spoke with the Eaglets and their officials for about 25 minutes.
Nigeria first won the same tournament in China in 1985, when President Buhari was military head of state, and he urged the team to repeat the same feat against Mali, to make it the fifth time Nigeria will win the trophy.
Starting with the head coach, Emmanuel Amuneke, President Buhari congratulated him for leading the team to the final.
"Your victory tomorrow will remind Nigerians of what happened in China 30 years ago, and it will raise the morale of Nigerians, especially the youths.
"We're praying for you. We are anxiously waiting to receive the cup. Please put us on the world map of soccer again,'' he told Amuneke.
Speaking to Udoh Akpan, the goalkeeper, President Buhari said he was a very strategic member of the team.
"If you don't let in the goals, then none will be scored against us. We look forward to lifting the cup,'' the statement quoted the President as telling Akpan.
Speaking to John Lazarus, a defender, the President said, "don't allow anybody to penetrate the defense.''
Buhari advised Tobechukwu Ibe, another defender to "rest well today, because a lot of Nigerians will be depending on you tomorrow.''
To top striker, Victor Osimhen, who has scored 9 goals so far, President Buhari said: "Strike like thunder tomorrow. I believe you will bring us victory.''
While charging the captain of the team, Kelechi Nwakali, to maintain his winning leadership, Buhari told Joel Osikel, a midfielder, that he was "the jewel of the team," and challenged him to contribute his quota towards victory.
"Apart from the 21 players and head coach, President Buhari also had encouraging words for other members of the technical team, the team doctor, physiotherapist, media officer, and other officials.''
The statement maintained that both Coach Amuneke and the team captain, thanked President Buhari for his support, and promised not to let him and the country down.