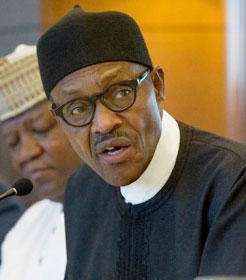 President Muhammadu Buhari
…Says Nigeria a country with national culture of corruption
By Jonah Nwokpoku
Former Vice Chancellor of Redeemers University, Professor Oyewale Tomori has said that the enormous task of rebuilding Nigeria cannot be left for President Muhammadu Buhari alone.
He stated this while delivering a keynote address at the public presentation of a book titled: 'Our Fathers' Land, including the reminiscences on the Nigerian Civil War' written by Dr. Titus Okereke, in Lagos.
Represented by Dr. Oladoye Odubanjo, he said: "Buhari alone cannot turn this country around. Buhari alone cannot change this nation. For Nigeria to change for the better, we must individually change for the better.
We must be willing to obey and obedient to then laws of the land, if we must enjoy the good of the land. We must get the true diagnosis of our problems and stop deluding ourselves that we are a great nation. We must face the reality that we rather bend, destroy and manipulate the law than obey it.
We must realize that we lack the moral courage to enforce rules, especially when the culprit belongs to our family or is from our tribe, club or political group. We must provide answers to the question: what did we do to end up in a country that remains unbound in freedom, peace and unity? We must face the fact that cutting corners, avoiding compliance with accepted norms of behaviour, settling for the second best, and living only for today and not planning adequately for the future are the "talents" that have brought our nation to the brink of "failed statehood."
Tomori who went down memory lane on how Nigeria got leadership wrong, decried the deepening decadence and increasing general poor state of affairs in the country.
According to him, "Since 1960, we have taken a holiday from positive advancement and a vacation from progress. In the process, we arrested our development. For 55 years, we condemned our future to serve time in the maximum Kirikiri prison of underdevelopment. During that period, we came to the brink of disintegration; we worked at shredding our tribes apart employing our twisted and forked tongues.