* Employs teachers to teach Izon in primary schools
By Samuel Oyadongha
Yenagoa—Bayelsa State Government has employed 30 teachers to teach the Izon language in primary schools in the state to save the language from extinction.
Commissioner for Culture and Ijaw National Affairs, Dr. Felix Tuodolo, announced this yesterday in Yenagoa, during the formal presentation of Izon language books to the management of schools in the state.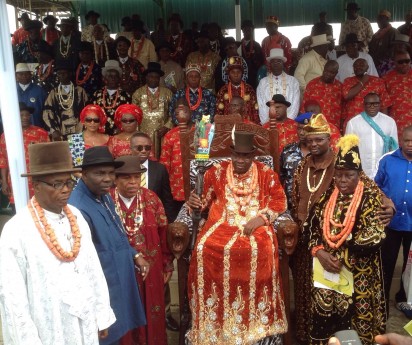 Tuodolo, who explained that several books had been written in Izon dialects to actualise the government's determination of preserving the language, said the move was informed by the deficiency in effective communication of Izon language among the various age groups in Ijawland.
According to him: "A situation where Pidgin English now takes the place of the Izon language from individual families is a danger signal which, if not decisively handled now, may lead to the extinction of the language. In order to revive the language, Governor Seriake Dickson's administration embarked on the training of
Izon language teachers, 30 of whom passed out successfully and were automatically engaged by the state government."
The teachers, he said, specialized in the teaching of Epie/Atissai, Nembe, Ogbia and Kolokuma which formed the Izon traditional language.
Tuodolo said the state government had met all the requirements of the National Council for Education for Izon to be taught in primary schools in the state and called on parents and wards to take it as a responsibility to ensure that their children and wards were taught the Izon language at home and not Pidgin English.
Presenting the letter of appointment to each of the newly employed teachers, the Executive Secretary of the State Universal Basic Education Board, Walton Liverpool, said three primary schools were selected from each of the eight Local Government Areas as pilot schools where the teachers would teach the native language.
One of the newly employed teachers, Mr. Tissa Okoro, who was posted to Community Primary School 1, Esampou in Kolokuma/Opokuma Local Government Area of the state, expressed gratitude to the state government promising to put in his best to help preserve the language.