Bayelsa Elders Council (BEC), a committee of elders and traditional rulers in Bayelsa State, has asked President Muhammadu Buhari to suspend the proposed termination of the Niger Delta Amnesty programme in December 2015.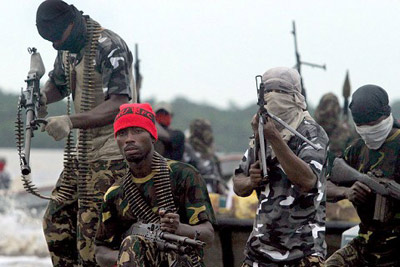 Rising from a consultative meeting, the BEC, in a statement by their chairman, Chief Francis Doukpola (MFR), chairman and the publicity secretary, Chief TKO Okorotie (OFR), said that ending Amnesty programme in December, would have serious security implications for the Niger Delta area.
In a four-point communique released at the meeting with Governor Seriake Dickson and his deputy in attendance, the elders also welcomed the decision to deploy soldiers for the December 5 polls, adding that they would not oppose the move as far as the soldiers were deployed for "lawful security duties."
The BEC stated in the communique that "Council also resolved to advise against the proposed dissolution of the Amnesty programme by December 2015 by the Federal Government as such a move will have far reaching security implications in the Niger Delta Region."
The BEC also blessed the governorship ambition of Governor Seriake Dickson, after he had presented his Restoration Agenda to the council.
The communique further read: "In the interest of peace and security of the state, council urges all political parties to ensure that their candidates, leaders and followers to be of good conduct in accordance with the Peace Accord signed between the candidates and the Independent National Electoral Commission (INEC), and not to disrupt the prevailing peace in the state, before, during and after the election of December 5, 2015.
"Council welcomes deployment of soldiers to Bayelsa State for the December 5, 2015 elections provided that they are soley for lawful security duties.
"His Excellency Hon. Chief Henry Seriake Dickson presented the Restoration government's scorecard, himself and his deputy for a second term. Consequently, council blessed them in a short ceremony by the first class traditional rulers led by the chairman of the Bayelsa State Council of Traditional Rulers."
The Elders, who attended the meeting included the chairman, Chief Francis Doukpola, (MFR) the chairman, Bayelsa State Council of Traditional Rulers, HRM King Alfred Papapriye Diete-Spiff, their Royal Majesties Kings Joshua Igbuguru, Joshua Igbagara, Jonathan Kubor, G.A Lawson, Mala Sasime, Napoleon Orianze, amongst other royal fathers, Chief A.M. Aduba, Deputy Cghairman of the council, Senator Inatimi Spiff, Sen J.K. Brambaifa, Prof. T.T. Isoun, Hon. Chief T.K.O. Okorotie, OFR, Dr. Georgina Ngeri-Nwagha, Chief Alex Ekiotenne, High Chief J.A. Eseimokumor, Major Andrew Oputa, Hon. Augustin Lugbenwei, Elder Zee Debekeme, among others.