By Ediri Ejoh & Prince Okafor
THE Federal Government has so far spent over $823 million (about N162 billion) on Abuja rail mass transit.
President of the Council for the Regulation of Engineers in Nigeria, COREN, Engr. Kashim Ali, disclosed this yesterday in Lagos at a seminar organized by KPMG professionals, in partnership with IPFA International.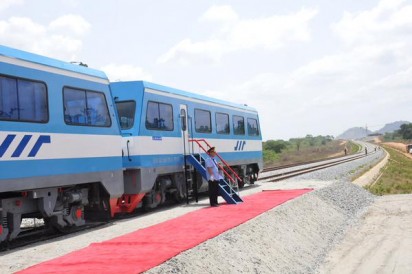 Ali, who spoke on the theme "Unlocking Rapid Development of Transport Infrastructure in Nigeria and West Africa," said: "The Abuja mass rail transit is over 70 percent completion, the total cost is $823 million and it is out for all to see."
The COREN president who described the railway network as the best and viable option for transportation in the country, called for speedy action on the demolition of structures on the railway right of way, ROW, by properly demarcating the assets before it.
He said: "The truth be told, we don't have any option than to develop the railway system because it eases travelling and a lot of goods are carried from the port to the hinterland and the best way to transport these is through such means.
"Vehicles carrying cement all over the road and destroying our way, all this can be transferred to a rail system. We don't have an option for the country of our size and the kind of economy that we have, we must have a railway system that is the best option for mass transportation."
On water transportation, Ali argued that the country's waterways network was currently not where it should be at the moment, adding that the channels, route must be drained and distilled from time to time since it was capital intensive in nature.
He noted," however, I am not aware of our major ferry operator whose boats have gone down. We have refurbished the one at Mile 2, just to provide that arterial connection and services across the state, but what is also key is attitudinal change. A lot of our people are still considering the safety on water ways, unfortunately, because the canoe are still running and often time, we brought most of the life jacket and we insist that before you go on ferry it should be wore."
Managing Director/CEO, ARM-Harith Infrastructure Investment Ltd, Mr. Opuiyo Oforiokuma, said noted that there were two key points essential to making the system work. Oforiokuma noted that when this was done, it would attract investors into the country to invest. "One of the worst things you can ever do is planning to do something and then discover you can't. It's like building a house, if you don't do your architectural design well and eventually can lead to a nasty shock if not possible," he added.