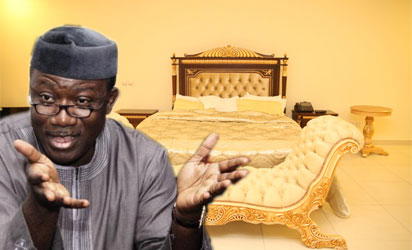 Dr. Kayode Fayemi, former governor of Ekiti State
* Defends how he governed Ekiti
* Says I never purchased a bed for N50m
Former Governor of Ekiti State, Dr. Kayode Fayemi, on Tuesday, debunked reports that he ran the economy of his state aground, while he served as governor.
Fayemi, one of the 10 ministerial nominees currently being screened by the Senate today, said he governed Ekiti with transparency and accountability.
Responding to a thought-provoking question asked him by Sen. Olusola Adeyeye (APC Osun Central) to clarify newspaper reports that he left Ekiti in debt, that he spent too much money on the Ekiti Govt House, Fayemi said they were all rumours, stating that the government house was built with just N2.5 billion.
The ex-governor said being one of the youngest states in Nigeria,without a government house for 19 years, the magnificent Government House he saw in Akwa Ibom, when he visited former Governor Godswill Akpabio, enticed him to embark on the project to give Ekiti State, a befitting Government House.
Fayemi added that the controversial N50 million bed in the government house wasn't purchased at that price.
According to him, none of the beds in the government house cost above N1.5 million.