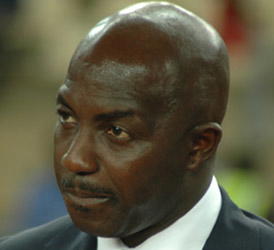 NOT A LAUGHING MATTER – Siasia
Chief Coach of the national U-23 team, the Dream Team VI, Samson Siasia has warned that the country runs the risk of not qualifying for the 2016 Rio Olympics due to the failure of most of the invited players to report to camp.
Siasia who was at the secretariat of the Nigeria Football Federation (NFF) yesterday ostensibly to register his frustration ahead of the African qualifier coming up in Senegal next month said of the 30 players invited, only 10 have reported to camp, a situation which makes it difficult for the team to train properly. The coach also regretted that efforts made by the NFF to secure the release of foreign based junior internationals like Manchester City forward, Kelechi Iheanacho and Liverpool new signing, Taiwo Awoniyi have not yielded results, even as he stated that the door was still open for them to come and fight for shirts any time they are released.
However, the former international revealed that his recent trip to Belgium yielded fruits as most of the clubs have requested to be intimated with the timetable of the team so as to know when to release their players.
"I must admit that the qualification is threatened because when you have only 10 players in camp out of 30 invited is not a good development. We are in October and before you know it the tournament will begin, so I want to, once again, appeal to the clubs to release these players so that we can begin to perfect our techniques."
On whether releasing the players with about five games to the end of the Glo Premier League will not affect the teams, Siasia assured that the clubs will not be affected adversely because according to the arrangement, every weekend they will be released to rejoin their respective teams for league matches.
Nigeria is grouped with Mali, Egypt and Algeria in the African Youth Championship (AYC) which will also serve as the Olympics qualifier.