By Chidi Nkwopara, OWERRI.
The arrest of Nnamdi Kalu of Radio Biafra fame, by the Directorate of State Security, DSS, has continued to elicit diverse opinions in Imo State.
While some citizens were of the opinion that the pirate radio station was over-reaching its bounds, some others commended Kalu for unearthing a number of things that were largely unknown to the public.
Speaking to Vanguard yesterday on the issue, Mr. Okorie Uma Kalu, described Mr. Nnamdi Kalu as "a freedom fighter".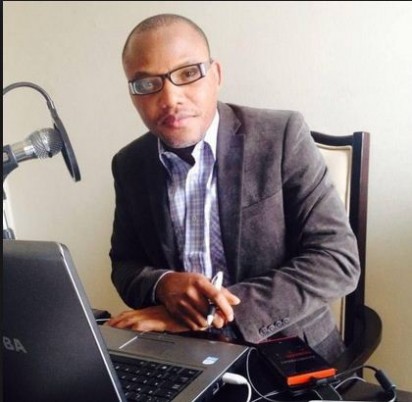 In his considered opinion, "the arrest of the freedom fighter by operatives of the DSS, would rather strengthen the resolve of Ndigbo to continue angling for the Republic of Biafra".
He advised the Federal Government against tampering with Kalu's cherished freedom, adding that it was best for the government to avoid doing anything that would heat up the polity.
While denying that he has blood relationship with the embattled citizen, Mr. Kalu also said that "nobody can destroy the Biafran spirit".
"The arrest of Mr. Kalu has not destroyed or dampened the spirit behind setting up of the radio station. The Biafran Radio is still on air and will continue to be on air, despite the harassment", Mr. Kalu said.
Answering a question, Mr. Kalu said that "many souls have been lost since the people renewed their struggle for the birth of Republic of Biafra", stressing that such things are expected in a legitimate struggle".
He urged Ndigbo and all the other tribes that constitute the Biafran dream state, to speak out now that the attack by the Federal Government has taken a new dimension.