After a glittering career spanning three decades, the final curtain is slowly coming down on Kobe Bryant — but few are expecting a Hollywood ending for the Los Angeles Lakers superstar.
Bryant heads into the final 12 months of a lucrative two-year contract against the backdrop of a familiar guessing game as to whether this will or will not be his last season as an NBA player.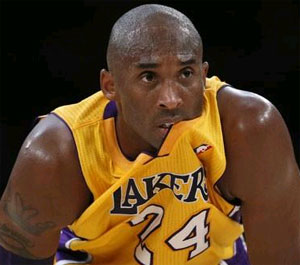 The 37-year-old five-time NBA champion, who has suffered a series of debilitating injuries in recent seasons that have curtailed the autumn of his career, wearily fields questions about his future.
Some experts, notably former Lakers coach Phil Jackson, have predicted that Bryant will find it impossible to walk away from the game and will seek a final contract at another franchise if he does not extend with the Lakers.
Bryant, who has spent the entirety of his career in Los Angeles, says however that he has not made any decision about a retirement date as he prepares to embark on what will be his 20th season with the outfit.
"I don't know what will be the decisive factor," Bryant said. "How do we know when it's time? Derek Jeter, Michael Jordan, it was different for all of them. Will I wake up one morning and say 'That's it'? Is it a gradual thing?"
Bryant admits that the seemingly endless questions about his retirement date "can be a pain in the ass."
"But when I sit back and think about it, it's cool, because it means that I had a very good career, people respect my career," he said.
Lakers president Jim Buss meanwhile has hinted the club could be ready to hold discussions about an extension, arguing Bryant's status as a franchise legend has earned him the right to exit on his own terms.
"I'm not going to sit there and say, 'This is it, Kobe, you're done,' because it's not my decision — it's his decision," Buss said in August.
– Tough season looming –
Yet the prospect of the upcoming season providing Bryant with the opportunity of riding into the sunset after another glorious chapter to his Lakers career are slim to non-existent.
Last season the Lakers had the second worst record of any side in the formidably strong Western Conference, winning only 21 games and losing 61.
It was the second season in a row the Lakers had failed to reach the playoffs, and a third failure to reach the postseason seems the likeliest outcome for the 2015-2016 campaign.
There are also serious question marks about Bryant's ability to stay the course.
In each of the three previous years he has suffered serious injuries that forced him to end his season prematurely. In 2013 he sustained a ruptured Achilles, which was followed by a fractured knee in 2014 before a torn rotator cuff in his shoulder cut short his 2014-2015 season .
Bryant increasingly sees his role as a mentor to the next generation of Lakers, which includes the likes of Julius Randle, Jordan Clarkson and D'Angelo Russell, the talented 19-year-old rookie who was just seven months old when Bryant arrived for his first Lakers training camp way back in 1996.
"There are big question marks on that team, but I am excited, there are young guys, veterans who have played together in the past, it's an interesting mix, we have done the work, now it's the time to put the pieces of the puzzle together," Bryant said.
"It's interesting to be around these young guys, it's the beginning of their career, of their journey. I am as excited as I have been for a long time. They are bringing energy, it's fun to be part of that — it makes you feel younger."