By Ochereome Nnanna
THERE are many reasons to fear criminals. There are many reasons for which, when they are caught (especially by a mob) the urge to deprive them of their most prized possession – their lives – can be so overwhelming. The fragile foundations of the nation's unity and stability were visibly shaken when one of our most respected living elder statesmen, Chief Olu Falae, was kidnapped by "Fulani herdsmen".
The spark of controversy this ignited set the nation on edge, as Falae's Yoruba ethnic group was engaged in a face-off and media exchanges with the Fulani ethnic group. The Yoruba, through Afenifere's spokesman, Chief Yinka Odumakin, accused "Fulani herdsmen" of invading farmlands in many parts of their homeland, killing, raping women, harassing villagers and involving themselves in abominable activities.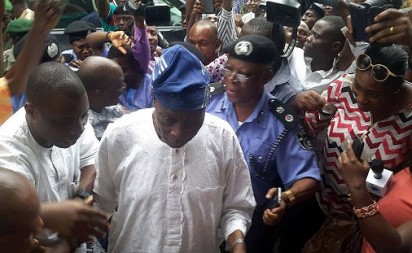 The Fulani, through the National Secretary of the Miyetti Allah Cattle Breeders Association of Nigeria, Alhaji Baba Ngelzarma, debunked the allegation, saying that there was no proof that the crime was committed by people from his ethnic stock. However, other Fulani spokesmen did admit that there are some criminal elements among them just as there are in every group. They maintained that even if it was found out that the culprits were of the Fulani stock; their crimes could not be used to demonise every Fulani herdsman, adding that a genuine Fulani cattle breeder will not abandon his flock for anything in the world.
Eventually, it turned out that the two sides were partly right. The culprits that the Directorate of State Services (DSS) paraded, Abdullahi Usman and Babaworo Kato, were Fulani, but not the usual Fulani herdsmen who go about with their flock without causing anyone pains. They were young desperados looking for quick money to celebrate Sallah and pay marriage bills. They were looking for "a big man" to snatch, and Chief Falae, being a humble farmer who regularly goes to his farm in "a Toyota Hilux jeep", became handy. It had all the hallmarks of the usual plot by common criminals who could have been from any ethnic group. There was nothing political about it. But given the fact that the menace of "Fulani herdsmen" has been sweeping every corner of the country unchecked, especially the North Central zone, the kidnap of Falae became a dramatic flashpoint to get Nigerians glaring at one another with raised ethnic hackles.
Falae is not just another "big man". He was the Secretary to the Government of the Federation and later, Minister of Finance during the military government of General Ibrahim Babangida over 25 years ago. In 1999, he was adopted as the presidential candidate of the All People's Party (APP). Falae is the first and only Nigerian that became the presidential candidate of a political party of which he was not even a member. He never contested in the presidential primaries of the APP in the Kaduna convention in February 1999. A man called Dr. Ogbonnaya Onu (now a minister-designate of the President Muhammadu Buhari regime) had been sponsored by one of the leaders of the APP, Alhaji Umaru Shinkafi, to stand for him as a proxy presidential candidate. Meanwhile, Falae had contested for the ticket of the Alliance for Democracy (AD) at its Ibadan convention during which he defeated Chief Bola Ige. AD leaders chose Falae over Ige because they saw him as a more electable and nationally-appealing choice than Ige who had always been more of the orthodox Awoist/Yoruba political activist.
After Onu emerged for APP and Falae picked the ticket of the AD, Shinkafi made Onu to step down, and personally ceded the presidential ticket to Falae while he (Shinkafi) ran as his vice president. The North was hell-bent on ceding the presidential ticket to the South West as compensation for their annulment of Chief Abiola's June 12th, 1993 presidential election and his eventual murder in detention. That was why Obasanjo was also given the presidential ticket of the People's Democratic Party (PDP), a party that was formed while he (Obasanjo) was still in General Sani Abacha's jail in 1998. It was the first time since 1999 that the North tried a merger with the West to secure the presidency for the South West, but it failed. Sixteen years later, another alliance between the North and West for the North's Buhari was consummated and it became a historic success.
Eventually, Obasanjo defeated Falae at the polls, having enjoyed massive electoral support of voters from the South East, South-South and the North. Falae's true statesmanship showed in the fact that he never considered those who voted against him in 1999 as his political enemies. In the 2015 National Conference called by former President Goodluck Jonathan, Falae came out boldly and advocated for the creation of an additional state for the South East to give the Igbos their proper share of the number of states and balance the federation. He did not choose to remember that Igbos had voted for PDP (Obasanjo) against him in 1999.
Falae is, thus, one of the few remaining genuine statesmen in the country, comparable to General Yakubu Gowon, President Shehu Shagari, Alhaji Balarabe Musa and others; and quite unlike troublesome elders such as Olusegun Obasanjo and ethnic warlords, Chief Edwin Clark, Prof. Ango Abdullahi and Alhaji Ibrahim Commassie who would not allow the nation that did so much for them in their youth to have a moment's rest.
The swift and decisive response of the Yoruba groups to the kidnap of Falae was mainly responsible for the expeditious hunt-down and apprehension of the young, misguided suspects. If they had not generated that frenzy, the law enforcement agencies would have looked the other way. The leaders of the North Central Nigeria, where similar criminals have been slitting the throats of babies, sacking communities and forcefully occupying their land, rustling cattle, raping and unleashing unimaginable scale of mayhem should take note. In Nigeria you must do more than sending wailing women to go and protest bare-breasted when powerful forces target your villages for extermination. You must do what Yoruba did after the kidnap of Falae: show some muscle, but do it lawfully.
Our constitutional right to move freely and settle in any part of the country is not a licence to go and do whatever we like. We must be law-abiding and respect the legitimate sensibilities of fellow citizens. You can own property, pay your taxes, vote and be voted for and live responsibly in any part of the country. But you have no right to threaten lives and property of your hosts or put them to fear. Fulani leaders, cattle owners and breeders must call their people in the bushes to order and join in efforts to separate the criminals from the law-abiding nomadic shepherds.
The temptation to sound defiant after provoking other people will not be in the interest of anyone. We don't want a situation where communities are pushed to take up arms to chase out fellow Nigerians because of invasive criminals roaming freely in the jungles, killing, stealing, kidnapping, sacking villages and occupying them in medieval fashion. We must avoid acts that will not promote our unity, cohesiveness and mutual cohabitation. We must respect the feelings and sensibilities of one another, whether we are hosts or settlers.
Every Nigerian group has some of their people as settlers elsewhere in Nigeria and other parts of the world. Let's go by the golden rule: do not do unto others what you will not like them to do unto you. Let's see criminals for what they are: beasts of no nation, and treat them accordingly.