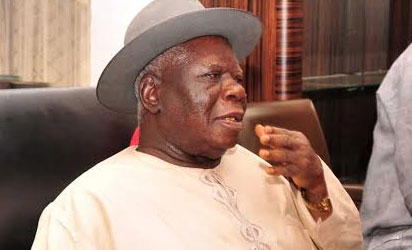 EDWIN CLARK
By Emma Amaize, Dapo Akinrefon & Charles Kumolu
ABUJA—MIXED reactions, Thursday, greeted remarks by Ijaw leader, Chief Edwin Clark, who accused former President Goodluck Jonathan of lacking the will power to combat corruption during his tenure.
Clark, the most prominent of Jonathan's supporters in the last administration, had said he was quitting partisan politicsto assume the role of an elder statesman.
Clark, a former Federal Commissioner for Information in the First Republic said "Jonathan didn't have the political will-power to fight corruption. He's too much a gentleman. Drivers of yesterday are living in palatial buildings now under his government. In advanced countries, when you are living above your means, people query you. That's not so in Nigeria. Former governors and lawmakers are now asking for immunity. Jonathan meant well for this country, but the will power to fight corruption was not there."
Notable Nigerians, who expressed divergent views on the issue, are a chieftain of the Pan-Yoruba socio-political organisation, Afenifere, Chief Ayo Adebanjo; one time Minister of Transport, Chief Ebenezer Babatope; Coordinator of Ijaw Monitoring Group (IMG), Comrade Joseph Evah and ex-militants under the auspices of Niger Delta Liberation Force, NDLF.
An unfortunate statement to make—Ayo Adebanjo
Reacting to the Ijaw leader's remarks, Afenifere chieftain, Chief Ayo Adebanjo said it was an unfortunate statement.
Adebanjo said: "It is an unfortunate statement to make. I won't say more. Nobody says Jonathan is perfect but it does not now mean that he (Clark) should be repeating what the critics of Jonathan have been saying. I feel disappointed in him (Clark) for making such statement."
He's entitled to his opinion—Ebenezer Babatope
On his part, Chief Ebenezer Babatope said Clark was entitled to his opinion.
Babatope, a PDP chieftain, said: "Chief Edwin Clark, as a Nigerian leader, a politician of age, is entitled to his own opinion. He says he is quitting partisan politics, I respect him for that. That is his own decision and the reason he gave that Jonathan is weak is also his own personal opinion, which may not be accepted by many people, particularly members of the PDP. For example, I do not believe that Jonathan was so weak that he could not lay his hands on any persons found guilty of corruption. I need to be told of one person, who was found out to be corrupt and Jonathan refused to deal with such fellow or he did not act."
" Chief Clark is entitled to his own opinion and with his age and experience, he can say anything but as far as I am concerned, I think there was no concrete proof that President Jonathan was weak in dealing with corruption. If any case of corruption was reported to him and the case was proved beyond reasonable doubt, he would have moved against such a person", Babatope said.
It's the height of betrayal—ex-militants
Also ex-militants, under the auspices of Niger Delta Liberation Force, NDLF, berated Chief Clark, for accusing Jonathan of lacking the political will to fight corruption.
Spokesman of the group, Captain Mark Anthony, in a statement, said, "Chief Edwin Clark has no moral justification to condemn former President Jonathan, by saying he (Jonathan) lacked political will to fight corruption. We are surprised at the unguarded comments from a man who called himself elder statesman. Clark was part of the rot in Jonathan's administration; he should keep quiet and allow other Nigerians to judge Jonathan's stewardship."
Anthony described Clark's statement as the "height of betrayal and backstabbing to find favour with the current administration.
"President Muhammadu Buhari should be warned to distance himself from persons like Clark if he wants to end well. We support the ongoing anti-graft war and urge Buhari to extend the searchlight to people like Clark, who are fabulously rich. EFCC should track the various bank accounts of Clark and others, who do not hold formal government offices and known open businesses, but are stupendously wealthy. We urge Buhari to be impartial in his anti-graft war to bring all looters to book to create a new hope for the future generation of Nigeria."
Clark meant no harm — Evah
Commenting, Coordinator of Ijaw Monitoring Group (IMG), Comrade Joseph Evah said: "Chief E.K Clark is the father of former President Jonathan. No one can understand a child more than his father. So if Chief Clark is saying so, that means he is giving a testimonial of his son. If his father is saying that he is incapable in a certain area, no one should fault his father for saying so. I am also a son of Chief Clark and he knows me very well. I dont think what he said was a condenmnation of Jonathan because even when Jonathan was the President, Chief Clark did not praise him on every issue.
"There were times that he challenged Jonathan. One of such instances was during the time of Bamanga Tukur as the National Chairman of the Peoples Democratic Party when he cautioned Jonathan against allowing Tukur to go. He opposed Jonathan on that by telling him that he would be in trouble if Tukur is allowed to go. The most important thing is that he understands Jonathan more than most people. I don't think he betrayed the former President with that statement. I think he was only telling Buhari to be firm on the war against corruption."