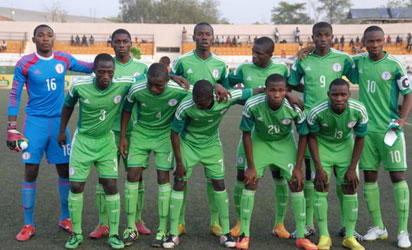 Golden Eaglets
World football -governing body, FIFA has expectedly briefed players and officials of Golden Eaglets about details of their itinerary at the FIFA U-17 World Cup Chile 2015.
In a formal meeting at the team's Double Tree By Hilton Hotel on Wednesday, a team of FIFA officials including General Coordinator, Mario Monterrosa, Dr. Yacine Zerguini (FIFA Medical Officer), Esse Baharmast (FIFA Referee Instructor) explained clearly with video presentation the rules and obligations to be followed throughout the competition.
"There is a need to play safe and with integrity;  and this is always the objective of FIFA ,"said Monterrosa." Of course, there is need to play clean and follow the rules of the game in true spirit of
sportsmanship and that is why this meeting is important."
While Baharmast counselled the players on how best to avoid unnecessary cautions, Zerguini emphasized the need for players to safeguard their health by staying away from drugs not prescribed by team's doctor.
"I want to advise you against taking any drug not recommended by your team doctor not even supplements some people would advise would allow you score 10 goals," advised the vastly experienced Algerian who is one of FIFA's leading orthopaedic surgeons and also a member of Confederation of African Football (CAF) medical committee.