Governor Ayodele Fayose of Ekiti State, on Friday arrested an officer of the Federal Road Safety Corps at Ikere Ekiti, for flouting traffic rules.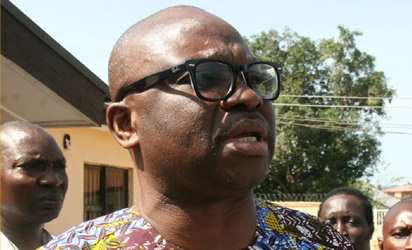 Fayose was done with the flag off of the Ado-Ikere-Iju dualisation and the commissioning of the downtown market stall in the town, when he sighted the road safety official driving against traffic at Oke –Ikere area of the town.
The governor immediately stopped his convoy and ordered that the man be arrested, and his car seized.
The road safety operative, identified as a Mr. Alabi, was traveling in a Peugeot 505 car to Ikere Ekiti, but took the wrong lane while trying to avoid the failed part of the road.
The fact that the road safety official was driving in the wrong lane to avoid the bad road on which Mr. Fayose's convoy travelled angered the governor, one of his aides said.
Mr. Fayose immediately ordered that the seized vehicle be taken to the office of the Ekiti State Traffic Management Agency in Ado Ekiti, with a directive that the driver be booked for all applicable fines.