By Douglas Anele
As I argued last week,  case against the Senate President, Bukola Saraki, is an elaborate charade to hoodwink Nigerians into believing that the so-called war against corruption is no respecter of persons and party affiliation whereas the skewed system that breeds corruption is left relatively intact and untouched, it means that the more things change in Nigeria under APC, the more they will remain the same. But what is the skewed system that incubates and nourishes corruption in our country? The answer is: the mixed-up unitarist-federalist 1999 constitution imposed on Nigerians by the military regime of retired General Abdulsalami Abubakar.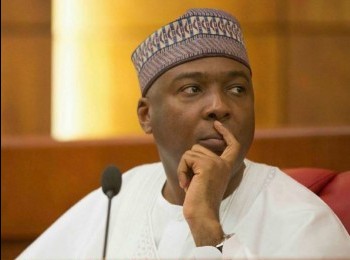 That very constitution, which concentrates enormous political and fiscal powers on the central government and emasculates the federating units, is at the very core of malignant corruption that has been crippling our developmental efforts. Therefore, as long as the states, some of which are unviable anyway, continue to depend heavily on a central government that periodically allocates and distributes funds to them based on an arbitrarily selected formula, it would be difficult to reduce corruption especially at the centre to a manageable level.
On this issue, the APC government led by President Buhari has failed already right from the start, because political restructuring of the country along genuine federalist architecture is not in their calculus at all. Aside from serving the entrenched interests of key members of the Northern establishment and their Southern collaborators, it is very difficult to understand why APC seems completely uninterested in political and fiscal restructuring. Probably Chinweizu was right in claiming that President Buhari is a tool used by the antiquated Caliphate system in Northern Nigeria to "appropriate the surplus produced by non-Caliphate sectors of the country using various devices in the 1999 constitution."
To some people, especially compatriots from the North, any reference to the exploitative character of the Nigerian state which is anchored on overt and covert diversion of resources from the South to the North, or demand that the present grotesque system should be jettisoned and a more equitable one established, is an unpatriotic recourse to divisive ethnic parochialism. However, genuine patriotism cannot be grounded on falsehood and unfairness, as already demonstrated repeatedly by our inability to make sustainable progress in creating a truly Nigerian nation since 1960.
Why, for example, did the 1999 constitution allocate seats in the National Assembly in such a manner that guarantees domination of the federal legislature by the North? What is the philosophy or rationale behind the lopsided distribution of states and local government areas, an arrangement which ensures that Northern Nigeria gets more than its fair share of our national resources derived mainly from the South? Is it fair, in a federation, that Northerners own more oil wells than the very people in whose lands the oil wells are located and whose communities have been devastated due to oil exploration and exploitation? I repeat: if APC is serious about meaningful change in Nigeria, it must begin a systematic replacement of the 1999 constitution with a new one that provides solid foundation for the emergence of true federalism.
On the on-going ministerial screening, the President created pointless anxiety and unrealistic expectations by delaying constitution of his executive council unnecessarily. This is because, instead of his spokespersons acknowledging the obvious fact that he was trying very hard to accommodate in his cabinet conflicting forces that helped him win the presidency, they repeatedly offered the tendentious excuse that the President was deliberately taking his time to pick the best people for the job. For die-hard Buharimaniacs for whom the President can do no wrong, the explanation by Garba Shehu was perfectly in order. Now that the ministerial list is out in two batches and senatorial screening has commenced, many Nigerians who expected something different, something dramatically innovative, are disappointed. Some are still wondering why the President took so long to generate a list that recycled former governors, federal legislators, and selected bigwigs of APC, including Chief Audu Ogbeh, a man screened for ministerial position over three decades ago when Bukola Saraki's father, late Dr. Olusola Saraki, was a senator.
I do not wish to repeat all the arguments for and against Buhari's ministerial list. It must be noted, however, that in terms of quality, President Buhari's ministerial nominees, taken holistically, are not superior to the ministers appointed by his predecessors from 1999 to May 29, 2015, and by military dictators (including the much-inveighed late Gen. Sani Abacha). A sizeable numbers of the nominees are experienced professionals and technocrats. All the same, for a President whose party took the gospel of change to dizzying heights during the last electioneering campaigns, recycling of people like Audu Ogbeh is a mistake. In addition, if indeed the President loathes corruption as much as his supporters claim, why did he select politicians currently facing allegations of corruption?
The argument that an accused is presumed innocent until proved guilty by a competent court is puerile and escapist: for every single ministry each of those nominees might eventually superintend, there are many qualified and competent Nigerians without question-marks on their reputations, including those living abroad, who can do the job satisfactorily. Overall, judging by the composition of the list, the President just wanted to reward some loyalists that helped him win the presidential election. But he cannot eat his cake and have it at the same time. By placing party loyalty and contribution to his electoral success above incorruptibility, Buhari is putting everyone on notice that the war against corruption is selective and not as thoroughgoing as they were meant to believe during the electioneering campaigns: it can be suspended depending on the political situation.
President Buhari once again missed a good opportunity to improve the quality of ministerial screening exercise: he repeated the mistake of his predecessors by not stating the ministry each of the nominees would be posted to. That in itself points to his inability to rise above the negative gravitational pull of opposing political forces that crystallised into the APC. At any rate, the Senate screening has exposed the lack of genuine progress in the process of recruiting ministers in Nigeria. Beyond sententious platitudes and loquacity displayed by some nominees, substantially there is no significant difference in manner the present ministerial nominees were screened by the senate and the screening done when PDP was in power. Indeed, the situation is worse presently: the Senate President himself is facing serious allegations of corruption and misconduct, which casts a long shadow on the entire process.
Moreover, the political situation now is markedly different from the situation in 1984 when Buhari, as a military dictator who ruled with iron-fisted decrees, did not have to consult anyone outside the Supreme Military Council before taking decisions. Consequently, despite his initial unrealistic aloof attitude towards the National Assembly mainly because of how Saraki disregarded the ruling party to emerge as Senate President, Buhari had to pocket his ego and reach out to the Senate leadership to get his nominees confirmed without serious legislative hitches. Buharimaniacs can hyperbolise until kingdom come Buhari's experience as a former military ruler and the extent it prepared him for the challenges of his present office. But his hasty disavowal of interest concerning who would emerge as leaders of the National Assembly and disparaging remarks about ministers suggest that he needs to learn more lessons on how to deal with complexity in a stochastic political environment. I foresee a situation in which President Buhari would increasingly jettison his initial idealism and operate more on the principle that Nigerian politics is driven by survivalist calculations, not by idealism.
Concluded.