By Samuel Oyadongha, Yenagoa
Governor Seriake Dickson of Bayelsa State and his predecessor, Chief Timipre Sylva who are locked in combat in the forthcoming election were yesterday engaged in a war of words over who performed better as governor.
Chief Timipre Sylva, who governed the state between 2007 and 2011, has also described as "dangerous meddlesomeness" the alleged sponsorship of bias and fictitious reports against the APC by the PDP led administration. He affirmed that the action has shown that the PDP lacks variable campaign strategy for the forth coming governorship poll.
Dickson, on his part, described the claims of the former governor and APC candidate as laughable saying the APC is a house of commotion without a campaign strategy.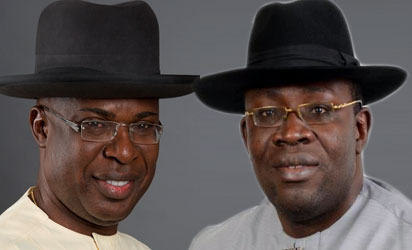 The Dickson campaign organisation, the Restoration Campaign Organisation, in a statement signed by the Director of Publicity, Hon. Jonathan Obuebite, said the claims by the Timipre Sylva Campaign Organisation that the PDP does not have any tangible achievement to campaign with ahead of the December 5 poll is laughable.
According to Obuebite, "it is Sylva that does not have what to campaign with."
Obuebite said, "while the PDP had set up its campaign secretariat and structures several weeks back, it is now the APC is trying to do same with so much controversy still trailing its last governorship primary and the selection of a running mate for its candidate."
He added that the orgy of violence and gangsterism that characterised the tenure of Sylva and the seeming suspicion of Bayelans would make the APC look stupid when they begin their campaign as most communities where their terror machine once scared people would reject them.
Obuebite, who served as member of the State House of Assembly, called on those serving on the Sylva Campaign Organization to first seek the forgiveness of God and apologise to Bayelsans over his misdeeds before attempting to seek their mandate.
"Dickson's overwhelming performance since he came on board has already given him a higher advantage as his victory is already sure," he said.