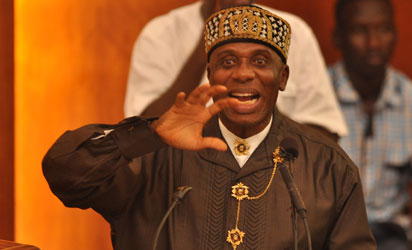 Amaechi
Abuja – Senators of the All Progressives Congress (APC) and Peoples Democratic Party (PDP) on Thursday disagreed before they eventually screened the former governor of Rivers, Rotimi Amaechi.
The disagreement ensued when PDP Minority Leader, Godswill Akpabio, raised a Point of Order on Amaechi's screening when the report on the petition against him was yet to be considered.
Akpabio insisted that it was the rules of the Senate that when the Committee on Ethic and Privileges submits its report on a petition against a nominee, it must be considered before screening.
To that end, the minority leader said that the PDP senators would not participate in asking the nominee any questions until the report of the committee was considered in the `Committee of the Whole.'
The committee on Ethics, Privileges and Public Petitions headed by Sen. Sam Anyanwu (PDP), laid its report today at plenary.
However, the disagreement deepened when the Leader of the Senate, Ali Ndume, in response to the Point of Order, said that if the PDP would not ask questions then the APC might ask the nominee to bow and go.
He said that the nominee, having been a speaker for eight years and a governor for another eight years had proved his competence and could be asked to bow and go.
The minority leader, however, moved to clarify his point of order but some of the APC senators were shouting"take a bow and go''.
The President of the Senate, thereafter, moved to quell the situation and cautioned all the senators to stick to screening of the nominee rather than bantering.
The Senate thereafter proceeded with the screening with only the APC senators questioning the nominee.
Meanwhile, the PDP leadership in the Senate left the Red Chambers immediately after the screening of Amaechi, leaving only the Deputy Minority Whip, Sen. Abiodun Olujimi.
However, the minority leader returned and the PDP senators continued with questioning other ministerial nominees.
Amaechi was on the first list of ministerial nominees sent by President Muhammadu Buhari, but his screening had been stalled by the petition against him.