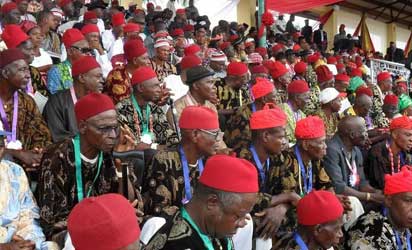 Igbo Chiefs
Ahead of the 2019 general elections, a chieftain of the All Progressive Grand Alliance (APGA), Campbell Umeh-Nzekwe has said that it is time for the South-East to produce the next president.
Umeh-Nzekwe who is the deputy national organising secretary of APGA said that 2019 is the best time for Ndigbo to work in unison to produce the next number one citizen.
He added that his party has a better chance of winning the presidential election as votes from the North will be divided following the zoning of presidency to the north by the All Progressives Congress and Peoples Democratic Party.
The APGA chieftain said that his party will key into this likely division in the north to consolidate on its position in the South-East.
He frowned at the situation where people from his zone gave other geopolitical zones bloc votes at the detriment of their own people, saying that he is very confident that his kinsmen in the PDP will do the right thing by backing an igbo candidate from APGA in 2019.
Umeh-Nzekwe: "The PDP has zoned its presidency to the North while the national chairman slot has been zoned to the South-West. APGA has thus zoned the presidency to the South-East. Hence, the PDP will be buried in the South-East in 2019.
"Those Igbo who used the PDP to destabilise the Igbo race will naturally rejoin their brothers and sisters in APGA to work towards the Nigerian presidency.
"Since we helped a Yoruba man, Olusegun Obasanjo, to become President; a Fulani man, Umaru Yar'Adua, to become President and an Ijaw man, Goodluck Jonathan, to also become President, no self-respecting Igbo man will deny his fellow Igbo the opportunity of becoming the President in 2019.