By Denrele Animasaun
You have enemies? Good. That means you've stood up for something, sometime in your life.-Winston Churchill
A week, they say, is a long time in politics. What a week it has been. In last week's article, I mentioned last week in 100 days of Buhari in office that, Godwin Emefiele was selected by Buhari. That was incorrect. He was brought in by GEJ to replace Sanusi, nonetheless; I maintain he is "fiscal supremo as the Central Bank Governor and he did announce that the foreign reserves had risen by $2.89b in the first month of the Buhari administration".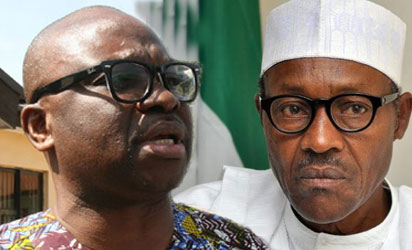 Last week, I received a large amount of comments and colourful debates, every single one, an insight into the Nigerian psyche.
As a response to some of these comments, permit me to share my father's response in my column, Old wine, New bottles, in 2013: "Be a critic-Denrele, two issues have been very sensitive – religion and ethnicity. People are blind and cannot reason in this country. We cannot because of that not do our duties to God and our country. Please, give as much as you get. They did not spare me and I do not see them treating you with kid gloves. You own this country as well".  So I will act on my father's advice, it has always served me well.
The news that Buhari and Osinbajo had publicly declared their assets must have irked many who are still looking for kinks in the new administration's leadership armour. It is what it is. The man said he would declare his assets and publicly show his material value and he has done it.
So we now know that Buhari has one bank account in a Nigerian bank, no foreign account, no off shore deposits, no foreign businesses or industries, five homes.
He has farms, an orchard and a ranch. The total number of his holdings in the farm includes 270 heads of cattle, 25 sheep, five horses, a variety of birds and a number of economic trees. Yes, he has a number of cars, two personal and others supplied to him by the federal government in his capacity as former Head of State. This is a very modest asset compared to many in his position; less than N30 million. A pittance in comparison to most of our politicians. Similarly, Osinbajo has three homes in Nigeria and one modest property in England. Osinbajo declared a bank balance of about N94 million and 900,000 United States Dollars in his bank accounts. Apart from his law firm, declared shareholding in six private companies based in Lagos, and he owns three vehicles.
There is no smoking gun here, in spite of what the critics may believe, it is the popular belief that, "successful people" in Nigeria are crooked and in to dodgy dealings. So it is heartening to know that not all Nigerians are tarred with the same fraudulent brush and it should be an incentive for those working hard to help shape Nigeria. It is very refreshing and a renewed national thinking of what it is to be a Nigerian.
For those who could remember, there was a time when hard work was lauded above all. You were then often asked what you did for a living and where you were from, your family name in those days. People rarely asked how much you had.  And now, that is all most people care about above all else. I hope the old virtues and work ethos will return; where hard and honest living is respected once again. These two men are an aspiration. They embody these principles that many Nigerians were brought up to believe but have had turned their backs on and nowadays it has been about coveting material wealth by all means possible.
Regardless of what has been declared, some will refuse to budge from their belief that anything good other than the dissolution and humiliation of Buhari will satisfy their absolute detestation. Their obsession and hatred for the man knows no bound. The level of enmity is deep rooted and they will continue to build their conspiracy theory regardless.
Chinua Achebe said it so succinctly; "We cannot trample upon the humanity of others without devaluing our own. The Igbo, always practical, put it concretely in their proverb Onye ji onye n'ani ji onwe ya: "He who will holds another down in the mud must stay in the mud to keep him down". What I have noticed is that, we run the risk of perpetually cutting our nose to spite our face when we fail to be objective, put aside tribal or political sentiments and think for ourselves.  Admitting you are wrong does not mean a sign of weakness; on the contrary it shows strong character and strength. This is the only way to growth and development. My apologies, if I am preaching to the converted.
The curious case of Fayose
"Nearly all men can stand adversity, but if you want to test a man's character, give him power." —Abraham Lincoln
Fayose is a law to himself. When you think he has finally done it, then he goes and tops with another stunt.  He only gone and done it again. He has chosen a 72-year old, Mr Olatunde Afolayan as the caretaker chairman of Moba Local Government. The deal is not that the man is a carpenter and an illiterate but, the fact that he made a big deal of it. I have no doubt that this man has years of community experience and possibly a staunch supporter of the man himself. It is not known on what basis the man was selected but the supercilious governor said; "In my government, whether you are educated or not, you will get something. The vote of a professor and an illiterate is the same. So, under my administration, those who are not educated can rise to any level they want."   Only Fayose can make sense of his logic and what a turn up for the books for a man that is so adverse to septuagenarians.
And speaking of Septuagenarians, Fayose, would like the President to remove Mrs Amina Zakari as the Acting Chairman of the Independent National Electoral Commission and he urges him to be equitable in appointing the National Electoral Commissioners. Well, he likes to stick his oar in.
He confronted thirty-one civil servants who were late during his unscheduled visit to the state secretariat. Pictures and video of him admonishing the workers was unnerving, undignified and uncomfortable to watch.   He recommended punishments for the late civil servants who were prostrating and kneeling to be spared his brand of punishment. With his hand in one pocket and holding a mic in another, he declined pleas, while telling them that their conduct was unacceptable. He declared: "If a labourer is worth his wages, the employer also is worth his services. I have warned workers in the state repeatedly about coming late to work or taking their jobs with laxity. Despite the paucity of funds, we have been regularly paying workers "salaries,"  and supported by one of  his manager  who said; "punctuality remained the soul of the business, workers must take their duties and coming to work on time seriously. "It is a consummation of what we have been doing concerning punctuality on the part of workers. For the past few weeks, we have been emphasising on this. It is time to enforce discipline and we have to mete out sanctions on erring workers. When you issue circular, pleas and some people are recalcitrant you have to sanction them" this is the job of the secretariat's HR department and not the governor's domain. The work culture has to change; this cannot happen without proper strategy and education. Treating people with respect and following proper and consistent procedure will go a long way.
Some might think that enforcing their brand of discipline to curb lateness but I disagree. No one should be debased and treated as beneath others or as inferior in status. There is no excuse for this power play, no matter what they have done.