The Director-General of the National Sports Commission (NSC), Al Hassan Yakmut has opened a window of opportunity to embattled Beijing Olympics bronze medalist, Blessing Okagbare to compete at the ongoing All Africa Games, with a stern warning that failure to run in Brazzaville will end her dream of racing for Nigeria at the 2016 Rio Olympics.
Speaking to the final batch of athletes and wrestlers set to depart for Brazzaville today, Yakmut, a former national volleyball player, clarified that the NSC has not banned the 100m track queen from the Games but was not going to hesitate from wielding the big hammer on any erring athlete, who took the nation for granted.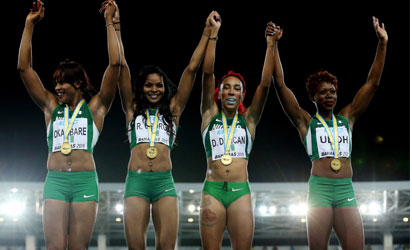 "Let me use this forum to clarify that the NSC has not banned Okagbare from the Rio Olympics. She remains our athlete but if she does not show up at the All Africa Games in Congo, she should forget about the 2016 Olympics. The same rule applies to other Nigerian athletes who take this country for granted. It is the directive of the federal government that any athlete who fails to represent the country in international competitions without cogent reasons, should forget about the Olympics.
"It is very wrong for athletes to make u-turn very close to the Games and we would not tolerate such an act of indiscipline", Yakmut added.
And we gathered last night that Okagbare may yet reconsider her decision to drop out of the All Africa Games.
A usually reliably source who spoke to the Commonwealth Games  double gold medalist said that "she seems inclined to running for Nigeria and we hope that she comes to Brazzaville".
And for shunning the last Diamond League, Yakmut has promised to reimburse Doreen Amata with the the $5000 appearance fee which she missed at the athletics meeting.
Yakmut also said that the era of giving foreign training grants to elite athletes are over, noting that all athletes would be treated equally henceforth by the NSC.
"It is until you make it into the team that we will start giving training grants. The era of different pay for different athletes, which to me is highly discriminatory is over"", said Yakmut, who warned the athletes not to enhance their performance with drugs, warning that "Nigeria will abandon any athlete who uses drugs in Congo"".
Subscribe for latest Videos