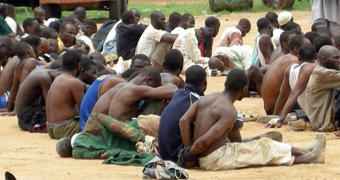 By Kingsley Omonobi & Levinus Nwabughiogu
ABUJA—Following sustained offensive by ground troops and pre-emptive air strikes by the Nigerian Air Force, scores of Boko Haram terrorists have continued to surrender to the Nigerian troops even as more have indicated willingness to lay down their arms.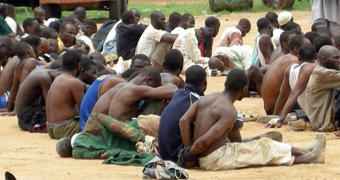 Vanguard gathered that many of the terrorists were moving out of their Sambisa haven which has received continuous pounding from the air as a result of airforce reconnaissance flight that exposed their hideouts.
A statement by the Acting Director of Public Relations, Colonel Sani Kukasheka Usman noted that the action of the terrorists, meant to escape collateral damage, was due to the new offensive strategies put in place for 'Operation Lafiya Dole' by the military high command.
According to the statement, "the new strategies being employed by the military have started yielding positive results with scores of terrorists surrendering to troops and many more willing to surrender.
"The strategies employed included sustained offensive operations, pre-emptive air strikes by the Nigerian Airforce and routes blocked by ground troops, all geared towards constricting and snuffing out the Boko Haram terrorists.
"Many of the terrorists that willingly surrendered, painted images of mass panic and hysteria among their erstwhile colleagues who are feeling the noose tightening on their necks with the relentless efforts of troops and renewed vigour in operations inspired by the personal leadership of the Chief of Army Staff.
"Terrorists also seem to have an inkling of what happens to surrendered suspects as regards screening and de-radicalization of innocent ones among them."
Continuing, he said: "The Nigerian Army in conjunction with the Nigerian Air force and other security agencies will continue to devise and implement effective strategies to bring Boko Haram terrorism to a speedy end.
"It will also continue to receive surrendering suspects and assures innocent ones among them that surrender is the only option open to them. The Nigerian Army wishes to also appreciate the great support and information it receives from well-meaning citizens. More of these are required to help towards quicker obliteration of the Boko Haram scourge in our nation."
Buhari jets out to Paris
Meanwhile, President Muhammadu Buhari is due to leave Abuja for Paris, the French capital today on a three-day official visit to France.
The visit was at the instance of French President, Mr. Francois Hollande.
President Buhari will be accompanied on the visit by the National Security Adviser, Major-Gen. Babagana Monguno (retd.);  Permanent Secretaries in the Ministries of Defence, Finance, Agriculture, Foreign Affairs, Industry, Trade and Investment as well as the Chief Executives of the Nigerian Investment Promotion Commission and the Nigerian Export Promotion Council.
Upon his arrival in Paris, President Buhari will hold talks with President Hollande and other senior French Government officials on bilateral cooperation between Nigeria and France in the areas of defence, security, trade and investments.
The meeting with President Hollande would hold at the Elysee Palace this evening.
Afterwards, President Buhari and his team will also confer with the French Minister of Defence, Mr. Jean-Yves Le Drian; the French Minister of Finance and Public Accounts, Mr. Michel Sapin; the French Minister of Economy and Industry, Mr. Emmanuel Macron and the French Minister of Foreign Affairs and International Development, Mr. Laurent Fabius.
The President will also visit the headquarters of MEDEF, France's largest federation of investors and employers, where he will participate in a France/Nigeria Investment Forum with leading Nigerian and French entrepreneurs.
President Buhari will also confer with the Chief Executive Officers of leading French multinational companies such as Total and Lafarge on their current and future investments in Nigeria.
A statement from the presidential spokesperson, Mr. Femi Adesina further stated that President Buhari's other engagements in Paris included a meeting with African Ambassadors to France and an interactive session with members of the Nigerian community.
It is expected that the president will round off his visit on Wednesday and return to Abuja.