•It's not an ordinary snake—Mallam Rabiu, snake charmer
•How it was discovered, killed; Area boys turn it to delicacy
By Ike Uchechukwu
CALABAR—Senior Pastor of the MegaFaith Ministries, Calabar in Calabar South Local Government Area of Cross River State, Rev Tony is said to have seen numerous miracles in his life and undeniably, the Almighty God has used him to do the extraordinary even for others.
All the same, the messenger of the Most High did not plan for the unusual that he witnessed, last weekend, at his 10 Ekpiken Close domicile.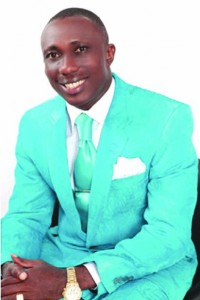 Unknown to the oracle of God, a 19 –year-old python, measuring 20-metre, supposedly feeding on dogs, fowls, rats and lizards for ages, had been a co-dweller with him and his children in the same apartment for about a decade. The moment he stepped out on the revelation day, the ravenous python from its hideaway in the roof, decided it was time to materialize and use one of the children for its next meal.
Amba's words, "Everything that happened that day was nothing less than a miracle. What if this beast had injured anyone, they would have said a lot of things about me and the ministry, I cannot thank God enough for what he did for my family and me because I have been living in that house for about a decade. Only God knows how long the snake came into that place.''
Angelic visit
Rev Amba told Niger Delta Voice, "Two of my children were home alone when they saw that a something like a machete was piercing through the ceiling so they ran out of the house. Fortunately, one of our members was coming to the house at that time, and he is the one, who inquired from them what the matter was and they told him what they noticed in the ceiling."
Shocking discovery
"In trying to find out if there was someone with a machete in the ceiling because the opening made was quite obvious, they set up a form of ladder to climb and look into the place, but saw something that looked like a tyre, but they discovered it was shining. They decided to use a bigger torch light, what they saw was a python and they were shocked," he said.
His words, "I just came back from a journey where I went to see my father in the lord in Abuja and also attended a conference there. My coming into Calabar was to prepare for our yearly programme, 'September to Remember,' but before coming back, I already knew that a battle had been won because God is always in control."
September to remember
"The occurrence did not come as a surprise but it was not natural, because what could the snake be possibly eating for those years it has spent in that place, it is indeed a September to remember for me ,my family and the MegaFaith Ministries," he added.
Amba further said, "When I was alerted, I decided to call the police so that they can kill it because I am not the kind of person, who reads meaning to every little thing. But they refused, arguing that they could kill it and it transforms into a human being based on the incident that led to its discovery, so they left without doing anything."
Snake charmers
The clergyman said neighbours referred him to some Hausa snake charmers from Bogobiri. He complied and invited them. According to him, "When they came (the Mallams), they first went into the ceiling to ascertain the size of the snake and came down to tell me that they will collect N60,000, but we bargained till they came down to N20,000, which we paid. I left them to continue the work of my Father because I had communion to administer that evening."
He disclosed that by the time he returned, they had killed the snake but area boys did not allow the snake charmers to take it away, as they turned it into a delicacy.
Attack: An eyewitness, who preferred anonymity, told Niger Delta Voice that the snake almost disappeared after they (Mallams) led by Danzaria Rabiu climbed the ceiling the second time to kill it.
"When one of the 'aboki' climbed the ceiling, they could not find the snake anymore, so they started breaking the ceiling all over and the creature fell down in fury, started attacking them, but the four of them over powered the about 20 meters long creature" he stated.
The eyewitness added, "The incident was really strange although there is a little bush behind us, but it still does not explain how the snake entered and have been living for years, how did it survive for that long in that place, what was it feeding on? He asked.
Not an ordinary snake
Mallam Rabiu, who spoke in Pidgin English, said: "The snake don live there for a very long time don live there for up to 10 years and when we kill am. I discover from the counting say the snake don live up to 19 years. There is a way we dey take count the mark wey dey the belle to know how long the snake don live."
"The snake enter there when e still dey small , na for there wey the snake stay grow because we see different kind of fowl , rat ,lizard and dog bones, that na wetin we see for inside that ceiling be that."
He, however, said that the snake did not look ordinary because it almost disappeared while they were trying to kill it after they had finished negotiating with the pastor, who called them to come and kill it.
He said: "When we come inside the ceiling the second timer, we did not see the snake again. We come begin break the ceiling before the thing come fall down.
"With the kind things wey dey our body, the snake no suppose attack us. I surprise when e begin open mouth to bite us."