French President Francois Hollande said Monday that the fight against Boko Haram and Islamic State jihadists is the same battle after he met Nigeria's President Muhammadu Buhari.
Buhari, who is on a three-day visit to France seeking support for his battle against Boko Haram, warned the jihadist group had expanded "after declaring its loyalty to IS".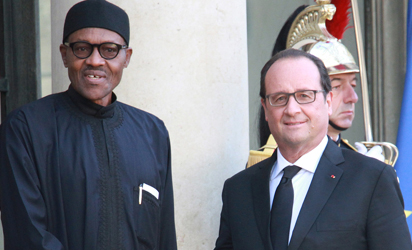 He said the jihadists' alliance, announced in March, had given Boko Haram "a source of material resources".
"We know Boko Haram is linked to Daesh and so receives help, support from this group," Hollande said, using the Arabic acronym for the IS group.
"To fight Boko Haram is to fight Daesh, and we can no longer single out terrorism according to regions. It is the same terrorism, inspired by the same ideology of death," the French leader added.
Buhari's three-day trip to France comes a little more than three months after he took charge of Africa's largest economy.
The 72-year-old former military ruler will also meet with members of government on defence, security, trade and investment in his oil-rich country.
Buhari has made defeating Boko Haram a priority since he came to power in May, after six years of bloodshed that has left at least 15,000 dead and made more than two million others homeless.
Anglophone Nigeria is in a coalition with Cameroon, Chad, Niger and Benin, and overcoming historically suspicious ties with its French-speaking neighbours is seen as key to defeating the Islamist militants.
France's military base in Chad's capital, N'Djamena has become the hub of its operations against jihadists in the Sahel region, and last month Hollande proposed to host an international meeting on tackling Boko Haram.
While Boko Haram has lost territory it once controlled in northeastern Nigeria, it has nevertheless stepped up deadly ambushes in its traditional heartland and across the border in Cameroon and Chad.
"France's assistance to Nigeria against Boko Haram focuses mainly on intelligence operations," said a source close to Hollande, adding that Paris conducts surveillance flights over Nigeria "at the request of the Nigerians."
Buhari is also trying to revitalise Nigeria's oil-dependent economy after a slump in revenue caused by the fall in global crude prices since mid-2014, made worse by claims the country's treasury was left "virtually empty" by Buhari's predecessor Goodluck Jonathan.
During his trip he will meet the heads of French oil giant Total and concrete manufacturer Lafarge, both of which have operations in Nigeria.
Hollande said a number of agreements had been signed in the agricultural sector "which is Buhari's major priority."
The 180-million-strong Nigerian population may still suffer from widespread poverty, but the country is also experiencing the rise of a middle class with considerable spending power that is attracting investors, despite Nigeria's poor infrastructure.
The French presidency source, who wished to remain anonymous, said French supermarket chain Carrefour is planning to open stores in Nigeria, carmaker Peugeot is going to reinvest in existing operations and Renault is considering establishing a presence there.