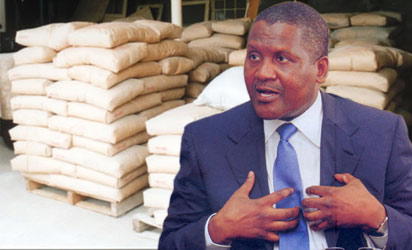 Aliko Dangote
Chairman of Dangote Cement, Aliko Dangote over the weekend reiterated his plea to the Federal Government to urgently consider the use of concrete roads in the country.
In a chat with newsmen over the weekend, the African richest man said, it will be to the benefit of Nigerians and even the Federal Government to embrace the option of using concrete for roads in the country. Aside from being very cheap, he said concrete roads are more durable and that its maintenance cost is near zero.
According to him: "We are pushing for Nigeria to do a concrete road. It is cheaper to do a concrete road that will last 50 years than to do a bitumen road. It will also help in eliminating corruption because if you go and build a bitumen road, it will have to be adequately maintained unlike a concrete road that is very durable."
It would be recalled that the company has just expanded its frontiers to Asia, by constructing a 3 million metric tons per annum (mmtpa), Cement Plant in Nepal, as part of its new investment of $4.34 billion into 10 African countries. Currently in 15 African countries, excluding Kenya, Niger and Mali, which are new projects.   The company's current total capacity stands at 48mmtpa, out of which Nigeria alone has the largest chunk of 29.3mmtpa.
Dangote recently said: "We are not only building cement plants in Africa, we have gone far away to NEPAL to build a 3 million metric tons Cement Plant capacity and by the time all these our new projects are completed in the next two years, Dangote Cement will have more than 70 million capacity but we are not going to stop there, hopefully, by 2020, our targets is getting to somewhere around 100 million tons capacity.