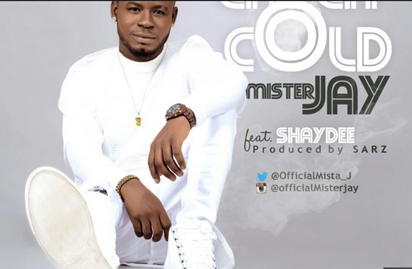 By Tofarati Ige
1. Mister Jay featuring Shaydee- Catching cold
Olajide Ogundele also known as Mister Jay teams up with EME's Shaydee in this beautiful tune titled Catching cold. The song is produced by Sarz
2. Reminisce- Gboriduro
In the song Gboriduro, Reminisce tells the tale of a man who is not ashamed to show off the woman who has shown dedication to him .The song teaches loyalty and perseverance in relationships. It is produced by Camo.
3. Waye- Jowu mi
Waye is an upcoming singer who has just released a new song titled Jowu mi. The song is produced by Gray Jones
4. Slyde – Ginger
Talented Afro-pop artiste, Slyde is back with a new song titled Ginger. The tune is unveiled to celebrate his birthday. It is produced by Willmic
5. Omotayo -Slam
Omotayo is a new kid on the block with a refined RnB voice .He has released the visuals for the song Slam.
6. Jhybo – Shuga
Indigenous rapper, Jhybo returns with this new track titled Shuga. The song is a lively and funky dancehall song. It is produced by Popito
7. Jah Baby -L.O.V.E
Mojisola Efe Ogungbesan a.k.a Jah Baby is an upcoming singer whose voice and beauty remains her selling point. She unveils this new song titled L.O.V.E. It is produced by Young John
8. Bondo featuring Timaya -Ina
Bondo teams up with dancehall star, Timaya in his new song called Ina. The song is rich in reggae melodies and it is produced by TYMG Rupa
9. Moelogo -Do you love me
Moelogo who was recently nominated for the Nigeria Entertainment Award has unveiled the video of his song, Do you love me. The video is directed by Ini .It tells the story of betrayal, jealousy and revenge.
10. Phizzle featuring DJ Spinall – Rashidi Yekini
Afro-pop artiste, Phizzle dedicates his new song to Rashidi Yekini. The song is a rich blend of Yoruba, English and Pidgin. The video is directed by George Guise.
11.2phat – Veteran
After a hiatus from music, 2phat is back with the video of his new song Veteran. The video boasts of cameo appearances from 9ice and I.D Cabasa. It is directed by Cinnema.
12. Ash Hamman featuring Orezi and Igho – Wahala
Ash Hamman is not new to the business of music. The upcoming singer releases the video of his song titled Wahala. He collaborates with Orezi and Igho on this song. The video is directed by Hanoz Navda.
13. Humble Smith -Osinachi
Humble Smith officially releases the video of his song, Osinachi. Humble Smith, who also doubles as a dancer, engages the viewer all the way with his vibrant dance steps .It is directed by Adasa Cookey.
14 .Tony Venom – Bembe
Tony Venom who recently released the audio of Bembe, recently unveiled the video of the song. The video tells an interesting story of a person checking out a new house with a realtor, but ends up getting more than he expected .It is directed by Paul Gambit
15. Leo Wonder -Sunita
Recall that Leo Wonder was featured on Tiwa Savage's Ife wa gbona. The Afro-pop artiste returns with another song titled Sunita. It is produced by Timi Blaze.