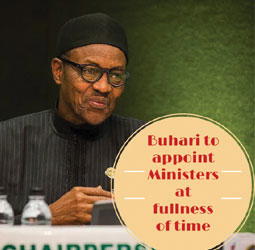 An Islamic leader, Mr Yusuf Oluwatoyin, has prayed that Allah should give President Mohammadu Buhari patriotic ministers who would assist him to rebuild Nigeria. Oluwatoyin, who is the President of Muslim Students Society of Nigeria (MSSN), University of Nigeria, Nsukka chapter, made the prayer on Thursday in Nsukka during the Ed el-Kabir prayer.

He said that success of Buhari's administration would depend on the quality of ministers and advisers that would work with him. "It is our prayer that for Allah to bless him with patriotic ministers and advisers to enable him to succeed in fighting corruption as well as take the country to the next level. "I implore all Muslim faithful in the country to always remember our president in prayers so that Allah will not allow evil advisers to come close to him,'' he said.

Oluwatoyin said that Ed el-Kabir called for celebration as Allah had answered the prayers of Muslim faithful all over the world on pilgrimage at Mecca when they offered special prayers at Mount Arafat.
"The celebration is in commemoration of the strong faith of Ibrahim in attempting to sacrifice his only son before Allah provided a ram for him. "It also shows that for us to be good Muslims, we must obey Allah's instructions and word of life as contained Holy Koran.

"The ram, camel, sheep or cow to be slaughtered today by Muslims who can afford it, should be divided into three parts , one part for his family, one part for friends and visitors and one part for the less-privileged," he stated. He thanked Allah for making it possible for the Chief Imam of the mosque, Shiek Adam Idoko, who was recently kidnapped to be released by his abductors.

"It is because of Allah's intervention that our Imam was released from the den of kidnappers. "The Imam is not here today as he has not fully recovered from the shock and psychological trauma he went through in the hands of his abductors," Oluwatoyin said.

He urged Boko Haram members to have a change of mind and stop the senseless killings of innocent people and destruction of property. "Whatever we do in this world we must remember that one day we will stand before Allah to give account of our stewardship on earth,'' he said.

The News Agency of Nigeria (NAN) recalls that Idoko was kidnapped by unknown persons on Sept. 10 at his home Ogruite in Igboze-North Local Government Area of Enugu state and was released on Sept. 17.