The Special Assistant to the Ekiti State Governor on Public Communications and New Media, Mr. Lere Olayinka has counselled the state chapter of the All Progressives Congress (APC), to tell President Muhammadu Buhari to make his assets public properly as he promised Nigerians, rather than asking Governor Ayodele Fayose to declare his assets publicly.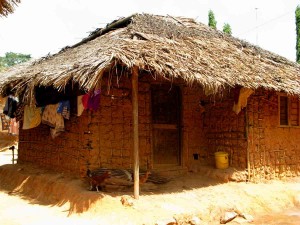 Olayinka stated that "Fayose was comfortable before he became governor. He is not a deceitful person who goes about parading mud houses and cattle herds as assets for cheap political publicity."
Reacting, to a statement issued by the APC, asking the governor to publicly declare his assets, he said, "Governor Fayose has declared his assets as provided by the 1999 Constitution of the Federal Republic of Nigeria and whoever that is not satisfied can approach the Court or the Code of Conduct Bureau (CCB) for copy of his assets declaration form."
He said the APC was only raising issues on the governor's already declared assets because of his critical stance on President Buhari, adding that; "unlike President Buhari, Governor Fayose will never shy away from what he owns, he will never deny his assets because he acquired them legitimately. The governor does not need the easy and cheap excitement of declaring mud houses or herds of cows as assets for the applause of the gullible."
Olayinka said further; "We know where everybody, including President Buhari wealth are hidden and the APC should not provoke the governor to such an extent that he will begin to reveal their hidden assets.
"Nigerians demanded that President Buhari must declare his assets publicly because that was what the President promised when he was seeking the people's votes.
"It was part of President Buhari's electoral promises that his assets will be declared publicly and up till today, he has not done that. We have only been told that the President, whom they said was poor to the extent that he had to take bank loan to buy his party's nomination, is now the owner of a mini estate in Asokoro, Abuja that is worth over N3 billion.
"The APC should rather explain to Nigerians how a man they said had no houses anywhere apart from Daura and Kaduna suddenly become owner of houses and landed properties in Kano, Abuja and Port-Harcourt?
"They should also tell Nigerians what happened when President Buhari headed Petroleum Trust Fund (PTF) and why they lied to Nigerians that the president was poor, thereby obtaining Nigerians votes by trick."
Speaking further, Olayinka said Governor Fayose was more than clean, having been cleared by all courts in the land, and most importantly secured judgment against the Economic and Financial Crimes Commission (EFCC) for trespass and intrusion of his properties.
"Up till today, the N10 million damages awarded against EFCC since 2009 has not been paid and he is in the process of filing a writ of fifa against the agency.
"Therefore, the APC should tell President Buhari to come out clean to Nigerians because it is clear that he is not the poor man he was presented to be."