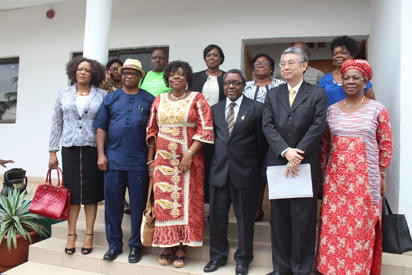 By Ikenna Asomba
As part of efforts to boost education in the state, as well as reducing unemployment, a delegation of Thailand investors have visited the Anambra State Government, to explore avenues of cooperation in educational development.
Briefing the Governor Willie Obiano, on the essence of their visit, the Thai Ambassador to Nigeria, Mr. Chailert Limsomboon, who led the delegation, stated that they were in the state to seek areas of co-operation, following the discussion they held with Professor Uche Amazigo, who is in charge of Community Education in Anambra and Enugu states.
However, receiving the delegation, the Chief of Staff, Professor Joe Asike on behalf of the governor, thanked them, assuring that them of government's commitment to the actualization of the programme.
He expressed the hope that the partnership will open up more opportunities for the state, adding that the partnership was part of the outcome of the business summit between the state and Thai investors early this year.
Similarly, the state Commissioner for Education, Prof. Kate Omenugha outlined measures taken by Anambra State government to boost education. She stated that the emphasis on vocational and technical education was aimed at reducing unemployment.
Omenugha added that Anambra State government was ready to partner any group that would facilitate the realization of the desired goals, adding, "that placing Anambra State among the three top states with the lowest illiteracy remains the strategic objective of the Willie Obiano administration."
On his part, the Chief Executive Officer, Pan-African Community Initiative on Education and Health, PACIEH, Prof. Amazigo maintained that such partnership will help a lot of children, especially the disabled and school drop-outs to go back to school.
Earlier, the Permanent Secretary, Ministry of Education, Dr. Beatrice Okonkwo explained to the Thai delegation, on the educational strides of the Gov. Obiano's administration.