By Jacob Ajom
All may not be well with the fledgling FC Ifeanyi Uba of Nnewi, as all indications point to the fact that the dressing room has fallen flat. Only last weekend, reports were rife of the disagreement between Coach Dan Amokachi and the President of the club, Chief Ifeanyi Uba.
According to reports, Coach Daniel Amokachi had been ordered to stay away from the Nigeria Premier League side after what was described as a case of insubordination.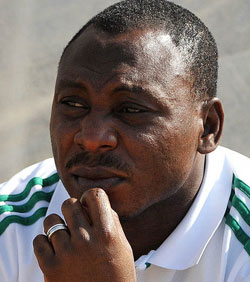 A latter report conveyed news of the purported resignation of the coach who was reported to have returned to his base in Kaduna. However, it is still not clear whether this ends Amokachi's stint at the Nnewi club.
Against this background, Proprietor and President of the club, Chief Ifeanyi Uba told Sports Vanguard that he was not aware of the resignation of the chief coach, Daniel Amokachi as was widely reported.
"No, I am not aware of his resignation," the businessman began. "I have an understanding with Amokachi and if he is saying to the press that he has resigned, has he shown them the contract papers and a copy of his resignation letter? What if I also go to the same press and say I fired him? I have not seen anybody who resigned at night. I have no problem with him. He is my friend and I cannot truncate his career. On our part, we have not fired him."
The President of the club continued, "they (players and officials) were asked to return to base after the match in Port Harcourt. So what? Was it the first time they were being asked to return after a match?" he asked with a tinge of anger in his voice.
"When you are working in a particular setting, you abide by the rules that guide that place. Above all, he has not met the target set for him. The target was not for the entire season but for a number of matches and he has not met it," the club President said without explaining what the target was.
"I am not going into a press war with him. Until I see his resignation letter or meet with him one on one, I will not want to say anything more than what I have said. What I won't tolerate, however, is if he goes about making public statements that will tarnish the image of my club."