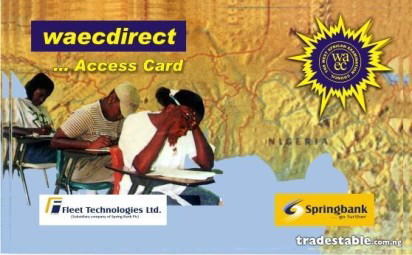 WASSCE scratch cad
By Dayo Adesulu
LAGOS — The West African Examinations Council, WAEC, has released results of more than 200,000 candidates which were withheld due to the indebtedness of their various states to the council. Affected candidates can now check their results at the council's website.
Head of WAEC National Office, Nigeria, Mr Charles Eguridu, had at a press briefing in Abuja last Wednesday promised to release the withheld results within 24 hours following the intervention of the Nigerian Governors Forum, NGF, which promised to ensure governors of the 13 indebted states pay their debts.
The Head, Public Relations of the West African Examinations Council, WAEC, Nigeria, Mr. Ari Yusuf, told Vanguard, yesterday, that "the Chairman, NGF, Governor Abdulazeez Yari of Zamfara State, had promised to expedite action to recover the money and a promise made at that level is difficult to doubt. A serious meeting will be held with the affected state governors to get the debt paid and we are happy with the approach of the NGF."
Also speaking with Vanguard, Executive Director, NGF, Alhaji Tayo Shittu, affirmed that the debts owed WAEC will be paid as soon as possible, adding that the national financial challenges do not permit the debtors to give a time frame.
He said: "Remember that these debts are for 2015 and we are just above half of the year. They are not outstanding debts. If I am owing you in 2015, it is understandable. If it was a backlog, we can shout and say, how come they have not paid. Everybody knows that there are economic challenges everywhere. We have given them every assurance that this money will be paid, but we cannot give a specific time.
"You will recall that Wednesday evening, WAEC, which had vowed to withhold indefinitely results of the 13 states owing the council, recanted the threat, saying the NGF had promised to hold a meeting with the affected states governors to recover the money.
The Head National Office, HNO, Nigeria WAEC has on Wednesday in Abuja during a press briefing said: "We have decided to listen to the appeals and review our earlier position."
Eguridu, who maintained his earlier stand not to mention the council's debtors said: "If I start to mention the names of states that are owing, I may not be fair to those that have paid and those making efforts to pay."
He explained that since WAEC is not a profit-making organization and her creditors were on its neck, he had to cry out, adding: "In the present circumstance, the government is subsidizing examination fees of candidates in Nigeria."