Ugandan President, Yoweri Museveni, has criticised US President, Barrack Obama, over his remarks about African leaders' failure to respect presidential term limits and clinging to power for life. He said on Wednesday at a joint news briefing with his Kenyan counterpart, Uhuru Kenyatta, at State House, Kampala, that Obama and other western leaders should respect the will of Africans who "democratically" elect their leaders.
Obama, had during a keynote address to Africa Union's 54-member nations, in Addis Ababa, during his visit in July, called on African countries' presidents to respect their constitutions and step down at the end of their terms. "I just don't understand the phenomenon of leaders who refuse to step aside when their terms end. No one should be president for life.
 
"There is still so much I want to get done to keep America moving forward, but the law is the law and no one is above it, not even presidents," he had said. Museveni said "for those who focus on term limits, we don't think they are correct. "Africa is not a back world because of term limits, but because of its lack of federation, common market, infrastructure and security.
 
"I don't know what he meant; I don't care, that is none of my business. ''For us in Uganda, we rejected this business of term limits. If I am in power because I am voted by the people, then I am there by the will of the people". It would be recalled that Ugandan parliament had, in 2005, voted to scrap the two-term presidential limit in the country's constitution.
 
According the Museveni, there are usually elections in Uganda and every five years the people have a choice to make. "We are going to have elections here; Ugandans will tell you about the term limit. "I have no apology to make to Obama; it's only the US which has term limits. Look at Israel, UK and Germany, they don't have term limits.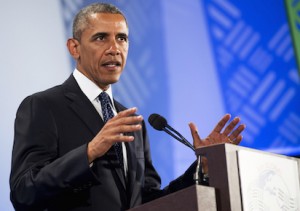 "Look at Tunisia, with confusion from some western countries; they voted for a man of 88 years old. They were stuck, having made a lot of mistakes," he said. Museveni, who has been in power since 1986, last week picked his ruling National Resistance Movement party's nominations form to run as its presidential flag bearer for the fifth term in office in the 2016 polls.
 
On his part, Kenyatta told reporters that the popularity of a leader in a country was not determined by term limits. "If Ugandans have chosen no term limits, I don't see the problem with it. "If it's people's desire, you must abide by the will of the people. We need to respect the democratic will of the people in the country or region," he said.
 
Kenyatta insisted that what must be respected is the popular will of the people. He said that the popularity was all about how much peace, development, progress and stability you give to your people. He said that time had come to always allow people to choose their leaders through the ballot rather than by imposition. "We must focus on prosperity for our people, infrastructure, federation and security,'' he said.
Subscribe for latest Videos