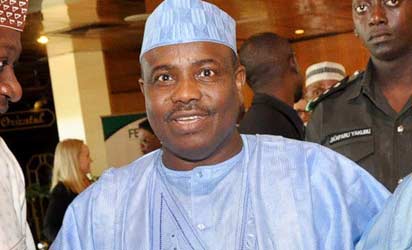 Governor Aminu Tambuwal of Sokoto
The Sokoto State House of Assembly on Tuesday said its probe of the state's finances is to ensure that due process was followed in the utilisation of the funds. The assembly had directed the state government to furnish it with details of the state's finances and expenditure from January to August this year.
The probe would cover the tenure of former governor, Alhaji Aliyu Wamakko, who handed over to Gov. Aminu Tambuwal on May 29, 2015.
Alhaji Malami Galadanchi, Chairman, House Committee on Public Accounts told NAN that the probe "is to examine all expenditures, state of revenues, as well as all financial statements and the actual beneficiaries of such.
"Our aim is to make sure that the actualization and the principles of the expenditures being utilized by the executive are in the right order, and to make sure that due process is always complied with.
"We also need to know the actual beneficiaries of such expenditures, as well as the debt if any, for the benefit of the state and the general public."
Galadunchi disclosed that the committee had met with the state's Accountant- General, Alhaji Aminu Abdullahi and Auditor- General, Alhaji Sambo Nawawi on the issue.
He explained the meeting had yielded the assurance that all records of government finances within the period under review, would be submitted to the assembly on Aug. 28.
The chairman pledged the assembly's total support of Gov. Aminu Tambuwal's determination to fight corruption and ensure good governance in the state.