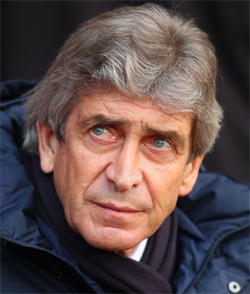 Pellegrini
Manchester City manager Manuel Pellegrini insists he has no intention of snubbing a handshake with old rival Jose Mourinho when Chelsea visit Eastlands on Sunday.
Pellegrini and Chelsea boss Mourinho have a frosty relationship that dates back to when Mourinho succeeded Pellegrini as Real Madrid manager in 2010 and made unflattering comments about his predecessor
They did not shake hands after their first meeting in England in October 2013, when Mourinho celebrated extravagantly after Chelsea snatched a late winner at Stamford Bridge, and they have traded barbs through the media on a regular basis.
Mourinho was involved in another handshake incident recently when he and Arsene Wenger refused to acknowledge each other following the Gunners' Community Shield victory at Wembley.
Pellegrini concedes he and Mourinho have had their differences, but the Chilean will shake hands because he does not want any controversy to overshadow the clash between two of the leading contenders for the title.
"I said the first day I arrived here I have my differences with him but… I always shake hands with him," Pellegrini told reporters at a press conference on Friday.
Mourinho has courted controversy already this week after criticising Chelsea's first-team doctor Eva Carneiro and physio Jon Fearn when the duo rushed onto the pitch to treat Eden Hazard during the champions' 2-2 draw with Swansea last weekend.
Mourinho's claims that Carneiro and Fearn had been "impulsive and naive" drew widespread criticism, but Pellegrini refused the opportunity to take a dig at his rival.
"I cannot give you an opinion about what happens at another club," he said.
"The players will be more interested in the game. They will be trying to win. I think it will be just a game involving football things and not other things."